US markets are closed on holiday today

Chances for Fed rate hike on December meeting reached 100%
US dollar index continued advancing on Wednesday while stock markets lacked any trends ahead of the holiday. US stocks are closed today due to the Thanksgiving Day. Economic data were positive on Wednesday. November Fed meeting minutes showed the Fed is ready to hike the rates on December meeting. Durable goods orders rose in US in October by 4.8% which is far above the anticipated +1.7%. Moreover, September orders were revised up. All this pushed US currency further up and supported the Dow Jones Industrial Index. US dollar index reached its high since March 2003. Stock indices Nasdaq and S&P 500 closed lower on corporate news. Pharmaceutical Eli Lilly announced its refusal to develop a new medicine for Alzheimer decease after failed tests. This pushed its stocks 11.5% lower and weighed on other hi-tech companies. No economic news will come out today in the US.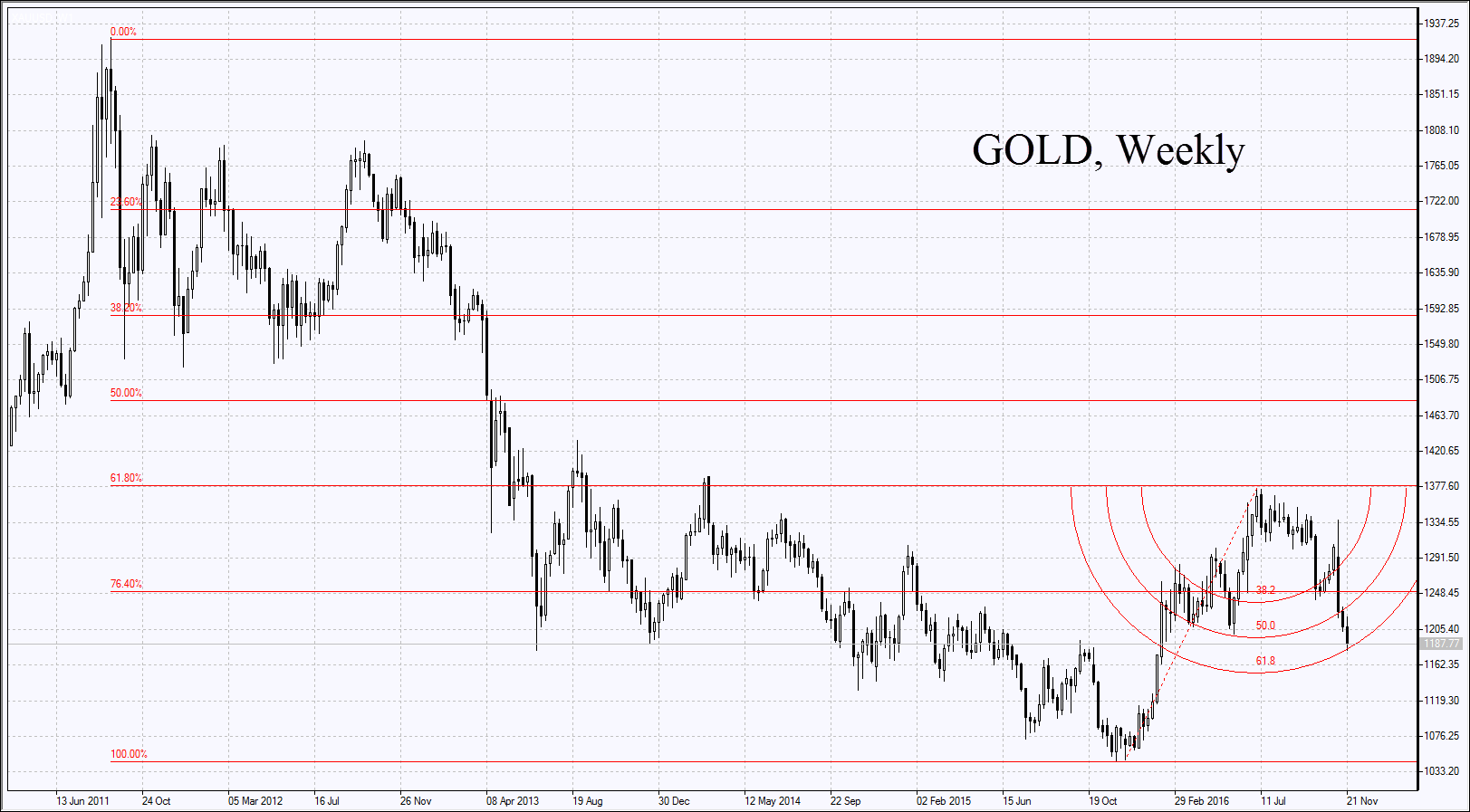 ---

Euro hits a fresh low
European indices dropped yesterday within the sideways channel while euro hit a fresh low since last March as oil prices stopped growing and this had a negative effect on energy companies. Banking sector fell on further decline in Italian Banco Popolare, B P Milano and Unicredit.
Economic data in Eurozone was mixed on Wednesday. October Manufacturing PMI fell in Germany while rose in Eurozone. Additional data on German economy in Q3 2016 came out quite weak today. Capital and construction investments fell short of expectations. Exports fell more than anticipated.
---

Nikkei hits a fresh high since this January
Nikkei continued advancing today for 6th trading day on weaker yen. Manufacturing PMI rose in November. Japanese markets were closed yesterday on Labour Thanksgiving Day. Investment company Mizuho Securities expects Nikkei to reach 19000 points till the end of this year. Important inflation data for October and weekly report on buying foreign bonds will come out in Japan on Friday.
---

Most futures are not traded today

Most commodity futures re not traded today due to the holiday in US. Russia said it is ready to cut production by 200-300 barrels a day in case OPEC also agrees on oil output "freeze" on its meeting on November 30. Russia produces around 11 thousand barrels a day while OPEC around 34 thousand barrels. US oil stockpiles unexpectedly dropped 1.3mln barrels last week while markets expected their growth. Average demand for gasoline in the recent 4 weeks in US is being 9.2mln barrels a day which is just 0.6% above the last-year level.
Green Pool Commodity company cut its forecast of global sugar deficit in 2016/17 agricultural season to 5.28mln tonnes. Previously it was expected to be 5.8mln tonnes. The forecast of global deficit was revised down from 8.39mln to 7.52mln tonnes in 2015/16. Due to the anticipated huge deficit, sugar prices reached their 4-year high.
Copper fell yesterday on expectations that newly elected US President Donald Trump confirms the new program of supporting US industry. Zinc prices reached the 8-year high. Gold prices fell on Wednesday as US dollar continued advancing. Meantime, gold holding of world major ETF SPDR Gold Trust fell 5% since early November while gold slumped 12% after victory of Donald Trump.
Thursday, 24 Nov, 2016 / 1:43
Source : http://www.ifcmarkets.com/en/market-overview/thanksgiving-day

Stocks falter again, bruised dollar seeks to end losing streak
Market mood sours again as China crackdowns, mixed earnings and [...]

PFIZER CRUSHES Q2, PROJECTS HIGHER COVID-19 SALES
The resurgence of covid-19 cases, with the rapid spread of the Delta variant [...]

Eurozone Q2 GDP: The Recession Is Over
Tomorrow we await the official confirmation that Europe has exited the [...]