US dollar bullish bets slide continues
US dollar bullish bets slid to $24.42 billion from $24.95 billion against the major currencies during the previous week, according to the report of the Commodity Futures Trading Commission (CFTC) covering data up to January 17. Investors reduced dollar bets on the background of mixed economic data during the week and no additional direction for dollar from Trump's first press conference. The major positive piece of data was the sales report showing retail sales rose 0.6% on month in December from upwardly revised 0.1% in November.
Another positive for dollar was the reduction in monthly budget deficit from $137 billion in December to $28 billion. On the negative side business inventories rose 0.7% on month in November after 0.1% decline the previous month and Michigan University preliminary consumer sentiment gauge slipped to 98.1 for January from 98.2 in December. Initial jobless claims also rose slightly, to 247 thousand from 237 thousand in previous week. The president spoke mostly about how he plans to transfer management of his vast business empire to his relatives at his first press conference and didn't provide any additional details on his stimulus plans such as tax cuts and big infrastructure spending programs. Investors reduced dollar bullish bets for the fourth time in five weeks. As is evident from the Sentiment table, sentiment improved for Australian dollar, Canadian dollar and Swiss franc. And Australian dollar holdings turned long while the rest of major currencies are still held net short against the US dollar.
The euro and British Pound sentiment deteriorated after concerns resurfaced about the possibility of UK's hard exit from the European Union as the country aims to regain the control of immigration policy. The net short euro position widened by $0.2bn to $8.9bn. Investors both the gross longs and shorts by 5901 and 5224 contracts respectively. Pound net shorts increased by $127 million to $5.13 billion. The net short position in British Pound widened as investors reduced the gross longs and covered shorts by 1500 and 1089 contracts respectively. The Japanese yen sentiment was little changed with the net short position edging higher by just $10 million to $8.62bn. Investors increased both the gross longs and shorts by 2519 and 510 contracts respectively.
TThe Canadian dollar continued to improve with the net shorts falling by $181 million to $418 million against the dollar. Investors built both the gross longs and shorts. The bullish sentiment turned bullish for the Australian dollar with $283 net shorts turning into $366 million net longs. The sentiment toward the Swiss franc remained bearish with the net shorts narrowing by $44 million to $1.7bn. Investors cut both the gross longs and shorts.
CFTC Sentiment vs Exchange Rate
| | | | | |
| --- | --- | --- | --- | --- |
| January 17 2017 | Bias | Ex RateTrend | Position $ mln | Weekly Change |
| CAD | bullish | positive | -418 | 181 |
| AUD | bullish | positive | 366 | 649 |
| EUR | bearish | positive | -8902 | -216 |
| GBP | bearish | negative | -5134 | -127 |
| CHF | bearish | positive | -1708 | 44 |
| JPY | bearish | positive | -8626 | -10 |
| | | Total | -24423 | |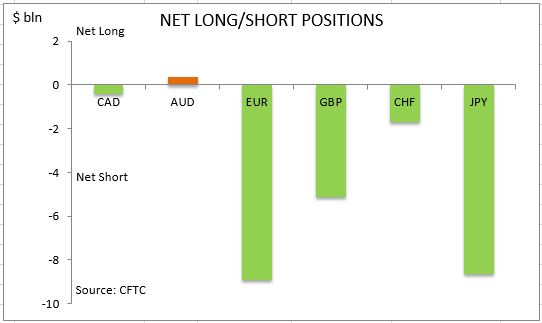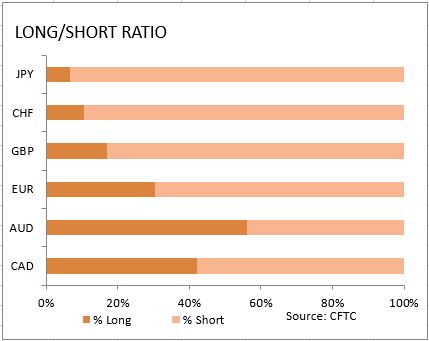 Monday, 23 Jan, 2017 / 11:19
Source : http://www.ifcmarkets.com/en/market-sentiment/us-dollar-bullish-bets-slide-continues?utm_source=financemagnates

Can The July NFP Return Some Optimism?
The consensus among analysts is that the US July Non-Farm Payrolls will show a [...]

Dollar shines after Clarida, BoE in the spotlight
Dollar climbs as Clarida beats the rate hike drums, ISM hits [...]

GM SHARES HIT A BUMP AFTER Q2 EARNINGS
General Motors reported a surge in revenues for the second quarter. Strong [...]