Technical Analysis #C-FCATTLE : 2016-12-22
Awaiting USDA report
The monthly USDA Cattle-On-Feed report for November will come out on Friday December 23, 2016. It contains the monthly total number of cattle on feed in US to be sold for the slaughter. Will beef prices advance?
The report is to come out at 18-00 СЕТ. The total number of cattle on feed in US feedlots is expected to have fallen 1.5% to 10.636mln as on December 1, 2106 compared to the same date last year. At the same time, the additional 12.8% cows were placed in feedlots in November 2016 compared to November 2015 (1.805mln against 1.6mln). We believe this may mean higher demand. On December 1, 2015 beef price was almost 27% above the current level. It is hard to say how real data may affect the prices given that US markets are closed on Monday on Christmas holiday. At the same time, demand for beef has risen. The margin of US companies engaged in butchering and beef packing has surged, compared to the previous week.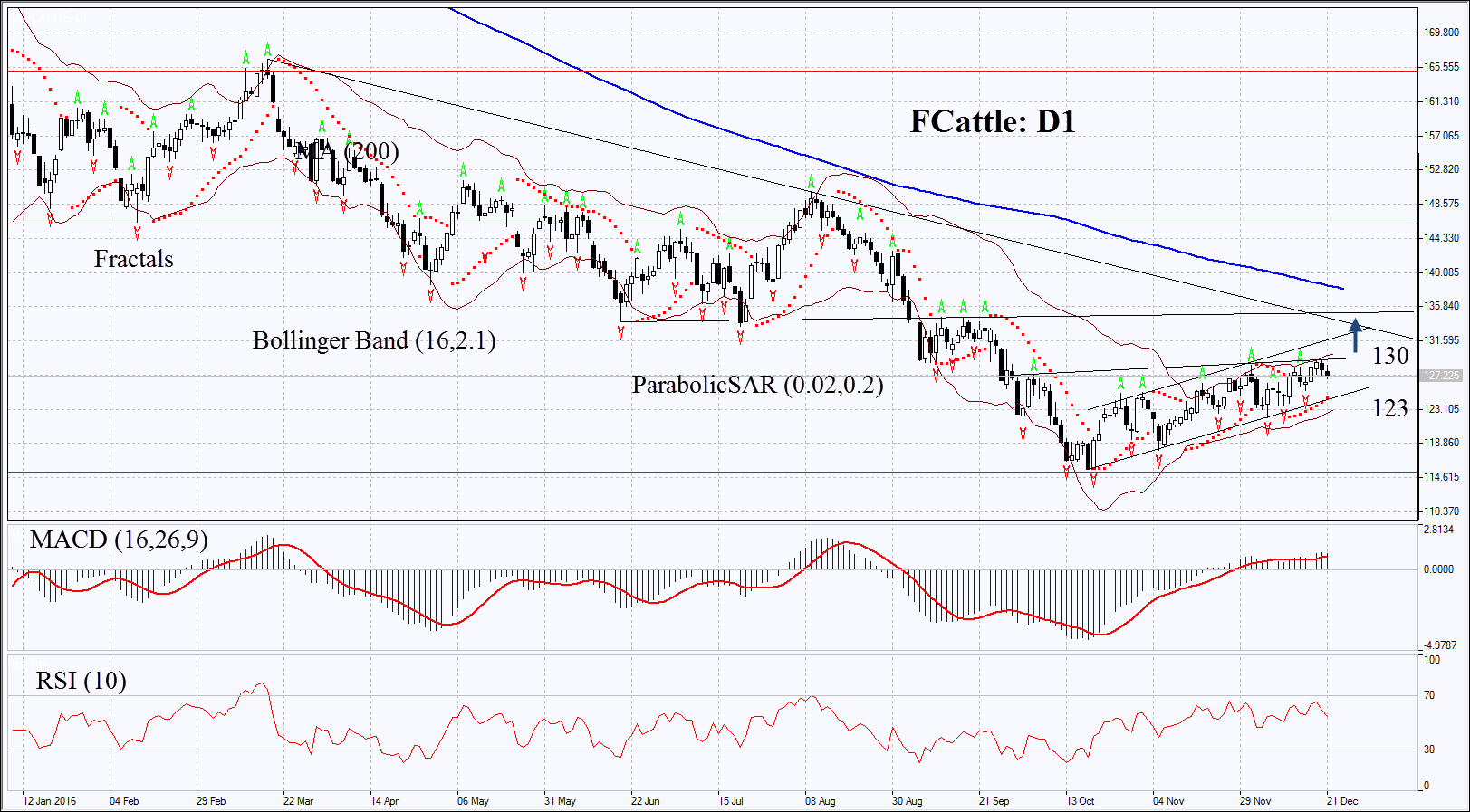 On the daily chart FCattle: D1 is correcting upwards from its 6-year high within the rising trend. It approached thrice its resistance in December but failed to surpass it. Further price increase is possible in case the monthly report of USDA turns out to be negative and in case of higher demand for beef in US.
Parabolic indicator gives bullish signal.
Bollinger bands have narrowed which means lower volatility.
RSI is above 50, no divergence.
MACD gives bullish signal.
The bullish momentum may develop in case beef surpasses the resistance and upper Bollinger band at 130. This level may serve the point of entry. The most risk-averse traders may wait for the USDA report and make deals in case the report is negative. The initial stop-loss may be placed below the last fractal low, the trend line, the Parabolic signal and Bollinger band at 123. Having opened the pending order we shall move the stop to the next fractal low following the Parabolic and Bollinger signals. Thus, we are changing the probable profit/loss ratio to the breakeven point. The most risk-averse traders may switch to the 4-hour chart after the trade and place there a stop-loss moving it in the direction of the trade. If the price meets the stop-loss level at 123 without reaching the order at 130, we recommend cancelling the position: the market sustains internal changes which were not taken into account.
Summary of technical analysis:
| | |
| --- | --- |
| Position | Buy |
| Buy stop | above 130 |
| Stop loss | below 123 |
Thursday, 22 Dec, 2016 / 10:02
Source : http://www.ifcmarkets.com/en/technical-analysis/fcattle/2016-12-22?utm_source=financemagnates

2020 Olympics & The Japanese Economy
With the 2020 Olympics kicking off after a year-long delay, just how much of a [...]

Fed, Inflation, And The Housing Bubble
Yesterday, the US' second-largest homebuilder, D.R. Horton, announced [...]

Stormy week ends with US stocks at record highs
Nasdaq 100 closes at new record as investors warm up to tech [...]