OPEC to cut output 1.2 million barrels per day



US stocks end lower despite energy sector rally
US stocks ended mostly lower on Wednesday, off early session highs led by energy stocks after OPEC agreed on production cut. The dollar ended higher on hopes higher oil prices would boost inflation, yielding higher interest rates. The live dollar index data show the ICE US Dollar index, a measure of the dollar's strength against a basket of six rival currencies, closed 0.53% higher at 101.509. The S&P 500 lost 0.3% settling at 2198.81, with only energy, financial and materials stocks finishing higher. The Dow Jones industrial average closed 1.98 points higher at 19123.58, led by Goldman Sachs, Chevron and DuPont shares. The Nasdaq dropped 1.1% to 5323.68, dragged by biotech stocks.
---


Energy stocks lead European markets higher
European stocks continued advancing on Wednesday led by energy stocks lifted by higher oil prices after OPEC reached a deal to cut production. The euro weakened while the British Pound strengthened against the dollar. The Stoxx Europe 600 ended 0.3% higher, led by 3.4% jump in energy stocks. Germany's DAX 30 ended 0.2% higher at 10640.30. France's CAC 40 outperformed adding 0.6% and UK's FTSE 100 index gained 0.2% closing at 6783.79.




Higher oil and positive Chinese data lift Asian markets
Asian stocks are rebounding today as energy stocks rallied on surge in oil prices. Nikkei rose 1.1% to 18513.12, the highest closing since December led by mining and exporter stocks, lifted by weaker yen. Chinese stocks are advancing as China's official manufacturing purchasing managers index rose to 51.7 from October's 51.2, with the official nonmanufacturing PMI also posting a gain. The Shanghai Composite Index is up 0.6% and Hong Kong's Hang Seng index is 0.4% higher. Australia's All Ordinaries Index gained 1% while the Australian dollar edged higher against the dollar.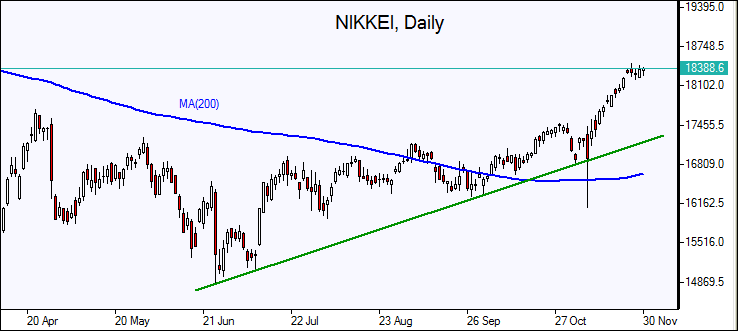 ---


Oil jumps on OPEC output-cut deal
Oil futures prices are extending gains today after The Organization of the Petroleum Exporting Countries (OPEC) agreed to cut output by 1.2 million barrels per day (bpd) on Wednesday. Non-OPEC countries agreed to decrease production by 500000 bpd, with Russia saying it would cut production by 300000 barrels a day. February Brent crude closed 9.6% higher at $51.84 a barrel on Wednesday on London's ICE Futures exchange. The OPEC cut represents about 1% of global crude oil output, which will help to balance the global oil market currently depressed due to a supply glut. According to the deal, Saudi Arabia is expected to cut the production by 486000 barrels a day, Iraq agreed to reduce output by 20000 barrels a day. Nigeria and Libya were exempt from the deal while Iran was allowed to increase production slightly above its October output. The deal is expected to accelerate the rebalance of supply and demand though higher prices are likely to cause more US shale producers to increase production. The US Energy Information Administration report yesterday showing a 900000 barrels drawdown in domestic crude supplies last week was also bullish for oil prices.
Thursday, 01 Dec, 2016 / 10:16
Source : http://www.ifcmarkets.com/en/market-overview/opec-agrees-to-cut-output-one-and-two-tenth-million-barrels-per-day?utm_source=financemagnates

2020 Olympics & The Japanese Economy
With the 2020 Olympics kicking off after a year-long delay, just how much of a [...]

Fed, Inflation, And The Housing Bubble
Yesterday, the US' second-largest homebuilder, D.R. Horton, announced [...]

Stormy week ends with US stocks at record highs
Nasdaq 100 closes at new record as investors warm up to tech [...]