Markets advance ahead of Fed interest rate decision



Dow within 100-point reach of 20000
US stock indices closed at record high on Tuesday as investors awaited Federal Reserve's December interest rate decision. The dollar inched higher: the live dollar index data data show the ICE US Dollar index, a measure of the dollar's strength against a basket of six rival currencies, closed 0.15% higher at 101.06. The Dow Jones industrial average advanced 0.6% closing just shy of psychologically-important 20000 level at 19910.93, a record high for seventh session in a row. Intel and Exxon Mobil shares were the biggest contributors to the blue chip index's rise. The S&P 500 rose 0.7% settling at 2271.72 with technology and energy shares leading the gains and nine of the index's eleven sectors in positive territory. The Nasdaq index outperformed gaining 1% to 5463.83.


closed higher on Tuesday at 11 month high led by Italian stocks. The euro weakened and the British Pound strengthened against the dollar after data showed UK consumer prices rose at their fastest annual pace for more than two years in the past month. The Stoxx Europe 600 ended 1.1% higher with Italy's stock market index outperforming as Italian bank shares jumped 5.8%. Germany's DAX 30 ended 0.8% higher at 11284.85. France's CAC 40 gained 0.9% and UK's FTSE 100 index rose 1.1% closing at 6968.57.


Asian investors cautious ahead of Fed meeting
Asian stocks are inching higher today with investors cautious ahead of much anticipated Federal Reserve interest rate decision. Nikkei ended up 0.02% at 19.253.61 with yen edging higher against the dollar. The quarterly tankan survey released today showed that sentiment among big Japanese manufacturers rose to plus 10 over the three months to December from plus 6 in the previous quarter, with a positive number indicating the percentage of respondents saying business conditions are favorable exceeds those saying they aren't. Chinese stocks are mixed with the Shanghai Composite Index down 0.4% while Hong Kong's Hang Seng index is up 0.1%. Australia's All Ordinaries Index rose 0.7% with Australian dollar rising against the dollar.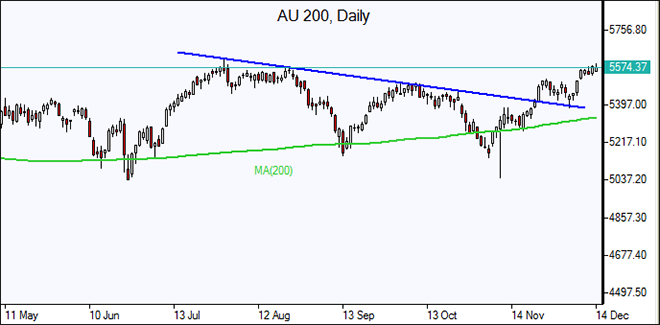 ---

Oil prices retreat on surprise US inventory build
Oil futures prices are edging lower today after a report US crude inventories rose last week. The American Petroleum Institute private industry group reported late Tuesday US inventories increased unexpectedly by 4.7 million barrels. Another negative for oil was the International Energy Agency (IEA) report which estimated that the Organization of Petroleum Exporting Countries pumped about 34.2 million barrels a day of crude in November, 500000 bpd above OPEC's official estimate, which was already a record. Prices ended at another 17 month higher on Tuesday after the IEA upgraded its 2016 global oil demand and predicted global inventories should start to shrink in the first half of 2017. February Brent crude rose 0.1% to $55.72 a barrel on the ICE Futures exchange in London on Tuesday. Today at 16:30 CET the Energy Information Agency will release US Crude Oil Inventories.
Wednesday, 14 Dec, 2016 / 11:44
Source : http://www.ifcmarkets.com/en/market-overview/markets-advance-ahead-of-fed-interest-rate-decision?utm_source=financemagnates

PFIZER CRUSHES Q2, PROJECTS HIGHER COVID-19 SALES
The resurgence of covid-19 cases, with the rapid spread of the Delta variant [...]

Eurozone Q2 GDP: The Recession Is Over
Tomorrow we await the official confirmation that Europe has exited the [...]

Powell eases taper angst, dollar slips; China stocks stage rebound
Fed cites "progress" but still a ways to go; September [...]