Market sentiment down on uncertainty after Trump's travel ban order



Dow dips below 20000
US stocks closed lower on Monday as President Donald Trump's executive order to temporarily halt immigrants from seven countries with large numbers of Muslims spurred concerns about negative impact of the ban on US businesses. The dollar fell: the live dollar index data show the ICE US Dollar index, a measure of the dollar's strength against a basket of six rival currencies, closed 0.18% lower at 10.388. The Dow Jones average fell 0.6% closing below the psychologically important 20000 level at 19971.13 led by drop in Caterpillar, DuPont and Chevron shares. S&P 500 declined 0.6% to 2280.90, with nine of the main eleven sectors ending lower. Energy, materials and technology shares were the worst performers. The Nasdaq composite index lost 0.8% to 5613.71, retreating 2.39 points weighed down by a selloff in biotechnology shares.


The dollar and stock indices retreated as President Trump's immigration ban once again brought into focus president's protectionist steps since his inauguration like removing the US out of the 12-nation Trans-Pacific Partnership and, pledging to renegotiate trade deals and ordering construction of the border wall with Mexico. Investors will focus this week on earnings reports from one fifth of S&P 500 constituents and central bank policy decisions. The Federal Open Market Committee's two-day meeting starts today, the consensus is policy makers will not hike rates at their first meeting in 2017. In economic news, consumer spending rose 0.5% in December from 0.2% the previous month. Separately, pending home sales rose 1.6% in December compared with 2.5% decline the previous month. Today at 15:00 CET November S&P/Case-Shiller Home Price Index will be released, the outlook is negative for dollar. At 16:00 CET January Consumer Confidence will be published by Conference Board, the outlook is negative.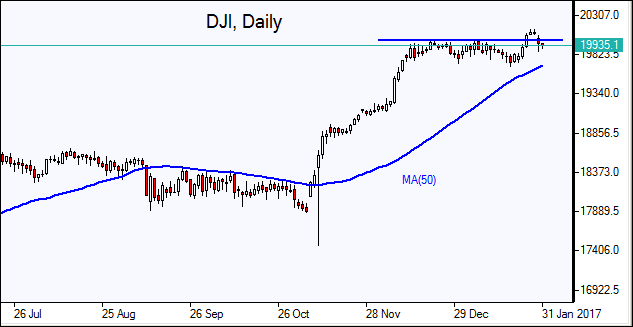 Travel stocks lead European markets lower
European stocks fell on Monday with market sentiment hurt by President Donald Trump's temporary ban on immigration from several predominantly Muslim countries. Both the euro and the British Pound slid against the dollar. The Stoxx Europe 600 index fell 1.1%. The DAX 30 lost 1.1% to close at 11681.89. France's CAC 40 fell 1.1% and UK's FTSE 100 ended 0.9% lower at 7118.48.




Travel and leisure shares led the decline in European stocks. Shares of Air France-KLM slumped 2.7% and British Airways's parent International Consolidated Airlines Group lost 2.5%. Greek stocks slumped after the International Monetary Fund said the country's debt is "highly unsustainable" and is poised to hit 275% of gross domestic product by 2060 unless there's a restructuring of its loans. Greek bond yields surged. The IMF board meeting is scheduled on February 6. Positive economic data were released on Monday: headline inflation in Germany hit 1.9% in January, the fastest rate since July 2013. Such rise in inflation may prompt the European Central Bank to signal a slowdown of quantitative easing, an ECB official said Monday. Furthermore, consumer and business confidence in euro-zone rose for a fifth straight month in January. German December Retail Sales came in lower on month than the November reading. Today at 10:30 CET December Consumer Credit and Mortgage Approvals will be released in UK. The tentative outlook is positive for Pound. At 11:00 CET fourth quarter GDP, December unemployment rate, and inflation in euro-zone will be released, the outlook is positive for euro.




Nikkei falls while Bank of Japan keeps policy unchanged
Asian stocks are down today after Trump's decision to ban temporarily the travel to the United States from seven Muslim-majority countries. Nikkei lost 1.6% to 19041.34 today as yen strengthened against the dollar on increased haven demand. Exporters were hit hard with stronger yen making their output less competitive in foreign markets. Besides a stronger yen auto makers struggled also after Trump's criticism of Japanese auto manufacturers for their "unfair practices". The Bank of Japan today kept its policy unchanged pledging to guide short-term interest rates at minus 0.1 percent and the 10-year government bond yield to around zero percent. Australia's All Ordinaries Index is down 0.7% with the Australian dollar little changed against the dollar. Markets in China and Hong Kong are closed for the Lunar New Year holiday.




Oil prices slip
Oil future prices are declining today after data showed US drilling activity is rising. Investors are concerned US crude oil output gains may outweigh output cuts by major oil producers who agreed to output cuts in 2017 equaling 2% of global crude supply. March Brent crude lost 0.5% to $55.23 a barrel on London's ICE Futures exchange on Monday.
Tuesday, 31 Jan, 2017 / 1:29
Source : http://www.ifcmarkets.com/en/market-overview/market-sentiment-down-on-uncertainty-after-trumps-travel-ban-order?utm_source=financemagnates

Australia Inflation: Did RBA "Tighten" Too Soon?
At their last meeting, the RBA declined to extend the yield curve control [...]

EURUSD Testing Significant Support
By Dmitriy Gurkovskiy, Chief Analyst at RoboForex This week's key [...]

US equities shine ahead of Fed but caution prevails elsewhere
Wall Street rallies on strong earnings even as US Covid [...]