Investors still bullish on US dollar
US dollar bullish bets rose to $24.82 billion from $22.25 billion against the major currencies during the previous week, according to the report of the Commodity Futures Trading Commission (CFTC) covering data up to November 29. Further positive economic reports supported expectations Federal Reserve will most likely hike interest rates at December meeting with US economy showing signs of improved growth. The GDP growth in third quarter jumped to 3.2% annual rate from 1.4% in the second quarter reviving hopes US economy will break out from subdued growth pattern at below long term growth rates that many claimed had become the new normal.
Corporate profits also jumped 7.6% after 1.9% contraction in previous quarter. A notable jump was recorded also in durable goods order in October which rose 4.8% on month from upwardly revised 0.1% in September while wholesale inventories fell, pointing to pick up in business investment which can lead to higher GDP next quarter if the strength in investment endures in coming months. Manufacturing PMI also ticked higher to 53.9 from 53.4 in October, while Services PMI edged lower to 54.7 from 54.9 resulting in no change in composite PMI at 54.9. Michigan University's final reading confirmed that consumer sentiment improved considerably in November rising to 93.8 from 87.2 in October. And with FOMC meeting minutes indicating policy makers are eager to raise rates at December meeting investors increased the dollar bullish bets. As is evident from the Sentiment table, sentiment improved for all major currencies. And the Australian dollar emerged as the only major currency held net long against the US dollar as continued deterioration in Japanese yen sentiment resulted in massive build of short bets flipping the net position into negative net short for the first time in 2016.
The euro sentiment deteriorated marginally as the net short euro position rose $18 million to $15.87bn. Investors built considerably both the gross longs and shorts by 8986 and 8878 contracts respectively. The British Pound sentiment continued to deteriorate with Pound net shorts increasing by $0.3bn to $6.10 billion. The net short position in British Pound widened as investors cut the gross longs and covered shorts by 3403 and 414 contracts respectively. The bullish Japanese yen sentiment turned into pessimistic view on the Asian haven currency with the $1.23bn net long position in Japanese yen turning into a net short of $30 million. Investors reduced the gross longs and built shorts by 941 and 12110 contracts respectively.
The Canadian dollar sentiment deteriorated with the net shorts rising by $86 million to $1.38bn against the dollar. Investors cut both the gross longs and shorts. The bullish sentiment further deteriorated for the Australian dollar with net longs falling by $0.7bn to $1.57bn. Investors cut the gross longs and built the gross shorts. The sentiment toward the Swiss franc continued to deteriorate with the net shorts widening by $175 million to $3.0bn. Investors built both the gross longs and shorts.
CFTC Sentiment vs Exchange Rate
| | | | | |
| --- | --- | --- | --- | --- |
| November 29 2016 | Bias | Ex RateTrend | Position $ mln | Weekly Change |
| CAD | bearish | negative | -1385 | -86 |
| AUD | bullish | positive | 1568 | -704 |
| EUR | bearish | positive | -15869 | -18 |
| GBP | bearish | negative | -6099 | -330 |
| CHF | bearish | positive | -3007 | -175 |
| JPY | bearish | negative | -30 | -1256 |
| | | Total | -24823 | |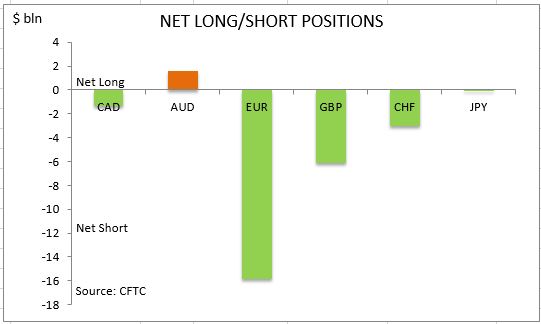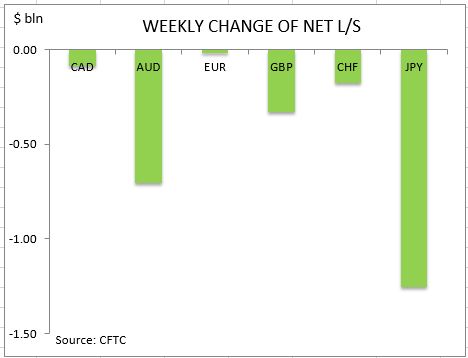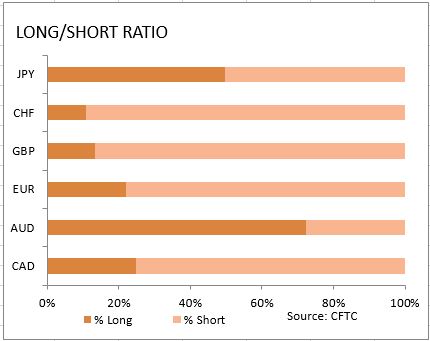 Monday, 05 Dec, 2016 / 11:24
Source : http://www.ifcmarkets.com/en/market-sentiment/investors-still-bullish-on-us-dollar?utm_source=financemagnates

Stocks falter again, bruised dollar seeks to end losing streak
Market mood sours again as China crackdowns, mixed earnings and [...]

PFIZER CRUSHES Q2, PROJECTS HIGHER COVID-19 SALES
The resurgence of covid-19 cases, with the rapid spread of the Delta variant [...]

Eurozone Q2 GDP: The Recession Is Over
Tomorrow we await the official confirmation that Europe has exited the [...]