Investors bullish on dollar ahead of Fed meeting
The bullish US dollar bets rose to $20.77 billion from $18.8 billion against the major currencies during the previous week, according to the report of the Commodity Futures Trading Commission (CFTC) covering data up to November 1. The strong third quarter US GDP report and mostly positive economic data were in line with expectations of improving economic growth, supporting the US dollar recent strength. Third quarter GDP rose more than expected, at a 2.9% annual rate.
Consumer spending was the main driver of the growth, contributing 1.5 percentage point to growth. Healthy new home sales and pending home sales, up 3.1% and 1.5% over month in September respectively, and better than expected vehicle sales at 18.29m annual rate in October indicated these areas of consumer spending supported consumption demand which drove the economic growth. At the same time while capital goods orders rose 0.2% in October, core capital goods orders (nondefense excluding aircraft) fell 1.3% pointing to weakness in business investment. And while personal income and personal spending increased to 0.3% and 0.5% over month in September from 0.2% and -0.1% in previous month, inflation indicators were steady with core personal consumption expenditure index at 1.7% over previous year. The employment cost index at 0.6% in the third quarter also was unchanged for the third straight quarter, showing no acceleration in wage inflation. On the negative side, consumer sentiment and consumer confidence fell to 98.6 and 87.2 in October. Nevertheless, the general picture showed improved economic growth and investors increased the dollar bullish bets. As is evident from the Sentiment table, sentiment improved for the Australian dollar and British Pound. And the Japanese yen and Australian dollar are still the two major currencies held net long against the US dollar.
The euro sentiment deteriorated at roughly previous weeks pace ahead of the European Central Bank policy meeting. Investors increased the net short euro position by $2.1bn to $19.0bn with euro-zone headline inflation rising to 0.5% in October from 0.4% in previous month while the third quarter GDP grew at steady 1.6% annual rate. Investors cut both the gross longs and shorts by 16438 and 2909 contracts respectively. The British Pound sentiment continued to improve with preliminary data showing the Q3 GDP grew at 0.5% over quarter slowing from better than expected 0.7% growth in Q2 while Gfk consumer confidence further deteriorated to negative 3 from negative 1 in September. The Pound net shorts narrowed by $47 million to $6.3 billion. The net short position in British Pound narrowed as investors increased the gross longs and covered shorts by 138 and 863 contracts respectively. The bullish Japanese yen sentiment moderated slightly with the net long position in Japanese yen falling by $161mn to $5.2bn. Investors reduced the gross longs and built shorts by 1375 and 60 contracts respectively.
The Canadian dollar deteriorated with the net shorts widening by $0.2bn to $1.2bn against the dollar. Investors built considerably both the gross longs and shorts. The bullish sentiment improved for the Australian dollar with net longs rising by $0.69bn to $3.1bn. Investors increased the gross longs and cut the gross shorts. The sentiment toward the Swiss franc continued to deteriorate with the net shorts widening by $0.2bn to $2.6bn. Investors cut both the gross longs and shorts.
CFTC Sentiment vs Exchange Rate
| | | | | |
| --- | --- | --- | --- | --- |
| November 01 2016 | Bias | Ex RateTrend | Position $ mln | Weekly Change |
| CAD | bearish | negative | -1193 | -195 |
| AUD | bullish | positive | 3128 | 688 |
| EUR | bearish | positive | -18983 | -2126 |
| GBP | bearish | negative | -6346 | 47 |
| CHF | bearish | positive | -2560 | -208 |
| JPY | bullish | negative | 5188 | -161 |
| | | Total | -20766 | |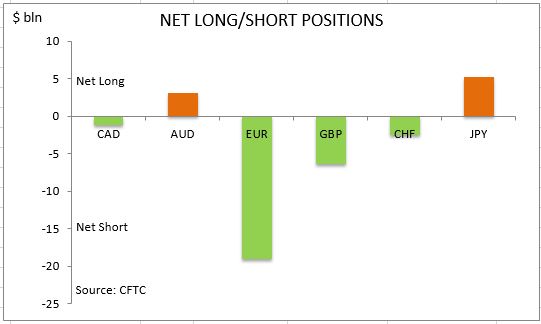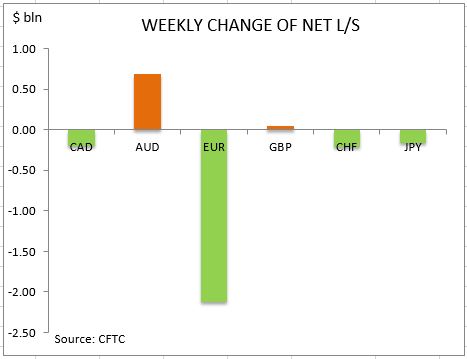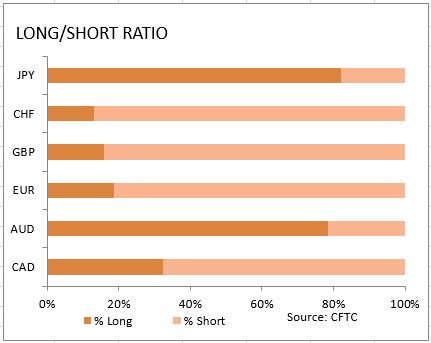 Monday, 07 Nov, 2016 / 10:33
Source : http://www.ifcmarkets.com/en/market-sentiment/investors-bullish-on-dollar-ahead-of-fed-meeting

PROCTER & GAMBLE SHARES SPIKE ON EARNINGS BEAT
Following the easing of covid-19 restrictions in the several parts of the [...]

Can US ISM Manufacturing PMI Bring Back Market Optimism?
Usually, after companies report their corporate earnings, traders want to see [...]

Dollar stabilizes, stocks recover ahead of busy week
Dollar trades quietly as traders brace for nonfarm payrolls [...]