Investors await Trump's first press conference



Nasdaq hits record high as broad market little changed
US stocks ended mixed on Tuesday as Nasdaq closed at a record high for a third session while the Dow Jones industrial average ended further down from the psychologically important 20000 level. The dollar strengthened: the live dollar index data show the ICE US Dollar index, a measure of the dollar's strength against a basket of six rival currencies, closed 0.18% higher at 102.029. The Dow Jones industrial average slipped 0.2% to 19855.53, led by Merck and Exxon Mobil shares. The S&P 500 finished mostly unchanged at 2268.90 with five of the eleven main sectors ending in negative territory. The Nasdaq index gained 0.4% to 5551.82, up for the sixth straight session.




Italy will not need the support of euro-zone bailout fund
European stocks closed higher on Tuesday ending two day slide helped by modest gains in bank shares with the health of Italian financial sector still in focus. Both the euro and the British Pound ended higher against the dollar. The Stoxx Europe 600 inched 0.1% higher. Germany's DAX 30 climbed 0.2% to 11583.30. France's CAC 40 ended nearly flat and UK's FTSE 100 index outperformed gaining 0.5% to 7275.47.




Asian markets rebound
Asian stocks are mostly up today as investors await president-elect Trump's news conference later in the day. Nikkei ended 0.3% higher today at 19364.67, halting declines after three straight sessions of losses as yen weakened against the dollar. Chinese stocks are mixed with the Shanghai Composite Index down 0.8% while Hong Kong's Hang Seng index is up 0.8%. China increased punitive tariffs on imports of a US animal feed ingredient known as distillers' dried grains from levels first proposed last year, potentially escalating a trade spat between the world's two largest economies. Australia's All Ordinaries Index rose 0.2% with Australian dollar gaining against the dollar.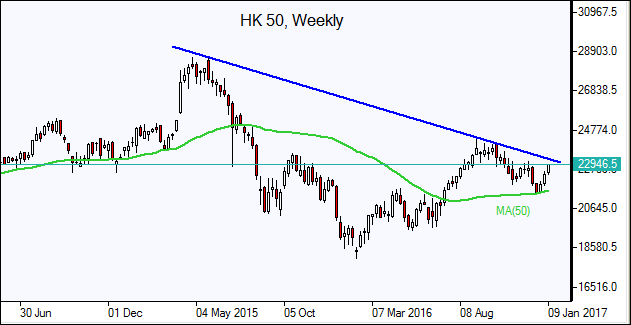 Oil prices recover while US crude stock build is expected
Oil future prices are edging higher today on reports Saudi Arabia, the world's top oil exporter, was cutting crude supplies slightly from contracted volumes in February, including to India and Malaysia. Still, investors are concerned supplies from other producers are rising. Iraq plans to raise crude exports from its southern port of Basra to 3.641 million barrels per day (bpd) in February, an all-time high. The US Energy Information Administration (EIA) said on Tuesday that American crude production in 2017 would rise by 110000 bpd to 9 million bpd. At 16:30 CET today Crude Oil Inventories will be released by the EIA. A build in inventories is expected. March Brent crude dropped 2.4% to $53.64 a barrel on London's ICE Futures exchange yesterday.



Wednesday, 11 Jan, 2017 / 10:13
Source : http://www.ifcmarkets.com/en/market-overview/investors-await-trumps-first-press-conference?utm_source=financemagnates

Perfect Time to Invest In FAANG Stocks
What happened? Apple, Microsoft, and Google reported their financial results [...]

US Q2 GDP: Where Is The Economy Heading?
Tomorrow there is a host of key data coming out ahead of the US session, which [...]

APPLE CRUMBLES DESPITE CRUSHING MARKET EXPECTATIONS
Apple's latest results were driven by stronger-than-expected iPhone [...]