EUR/USD: general analysis
Current trend
Quotes for the European currency continue to decline. At the moment the pair is traded near the middle line with the period 200, which is a strong support level. If this line is broken down in the near future, pressure on the Euro will increase. Portuguese news about probability of the banking crisis has had a negative impact on the European currency. As became known, one of the largest banks of the country, Espírito Santo International SA, has been involved not only in the financial business, but it also holds shares of the hotels and clinics, which has raised concern of the experts. According to information from the audit agency KPMG, the bank is subject to the risks, participating in the dubious financial operations. In order to improve its financial situation, the bank ESI SA can sell securities for the amount of 1 billion euro. Experts believe that the bank has too many debts; therefore, it will require a large amount of funds to pay off the debts. If the bank ESI SA turns bankrupt, the whole banking system of Portugal will be at risk, which may trigger another round of crisis in the country.
Today a chairman of the European Central Bank will make a speech. If Mario Draghi touches upon inflationary situation in Eurozone or mentions probability of introduction new measures to stimulate economy, it may trigger a new wave of sales of European currency.
Levels of support and resistance
The nearest resistance level is 1.3672 – 0/8 Murray.
Support level is 1.3617– сmoving average with the period 200.
Trading tips
It is recommended to open short positions after breakdown of the level of 1.3617 with stop-loss at 1.3645 and the target of 1.3550.
Dmitry Agurbash
Analysts of LiteForex Investments Limited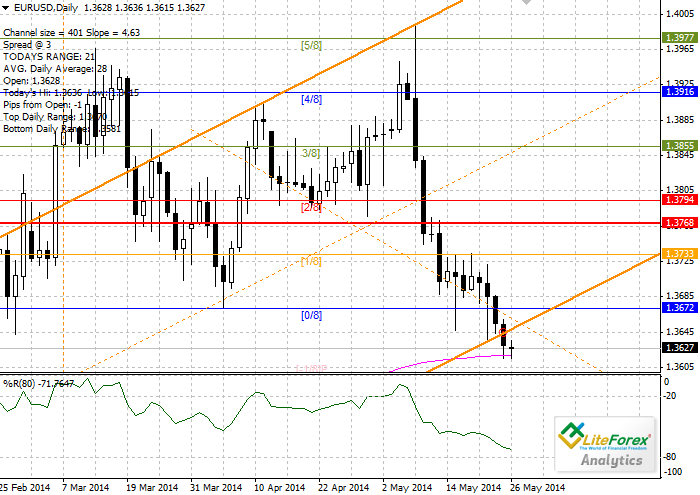 Monday, 26 May, 2014 / 11:20
Source : http://www.liteforex.com/

Market sentiment changed towards greater risk appetite
While the yields rose, the USD weakened against a basket of currencies Read [...]

What's The Real Issue With The Debt Ceiling?
Politicians just love a crisis that they can leverage to push their agenda and [...]

Bond markets come alive as tighter policy looms, stock rally eases
Sovereign bond yields jump on optimism and rising prospect of [...]