Dollar weakens on Trump's criticism of China's weak yaun policy



US stock indexes slide as dollar slumps
US financial markets closed lower on Tuesday after president-elect Trump criticized China for keeping its currency weak making the dollar "too strong". The dollar slumped after Trump's comments: the live dollar index data show the ICE US Dollar index, a measure of the dollar's strength against a basket of six rival currencies, closed 1.3% lower at 100.313. The Dow Jones industrial average slid 0.3% to 19826.77 weighed by more than 3% drop in JP Morgan and Goldman Sachs shares. The S&P 500 closed 0.3% lower settling at 2267.89 with financial and industrial stocks the weakest performers. The Nasdaq index lost 0.6% to 5538.73.




May's statement alleviates hard Brexit fears
European stocks pared losses on Tuesday helped by UK's Prime Minister Theresa May's statement British lawmakers will be able to vote on Brexit's terms. Both the euro and the British Pound rebounded against the dollar with the Pound jumping more than 3%, largest one-day gain since October 2008. The Stoxx Europe 600 declined less than a point. Germany's DAX 30 slipped 0.1% to 11540.00. France's CAC 40 lost 0.46% and UK's FTSE 100 index dropped 1.46% closing at 7220.38.




Asian markets higher ahead of Yellen's speech
Asian stocks are mostly up today amid cautious mood before Trump's inauguration on Friday. Nikkei ended 0.4% higher today at 19894.37 rebounding from five-week lows as the yen weakened against the dollar with investors awaiting Fed chair Yellen's speech later today. Chinese stocks are advancing with stronger yuan after Trump's criticism of Beijing's devaluation policies increasing attractiveness of Chinese equities. The Shanghai Composite Index is 0.1% higher and Hong Kong's Hang Seng index is up 1.2%. Australia's All Ordinaries Index fell 0.4% with Australian dollar pulling back from one-month high against the dollar.
<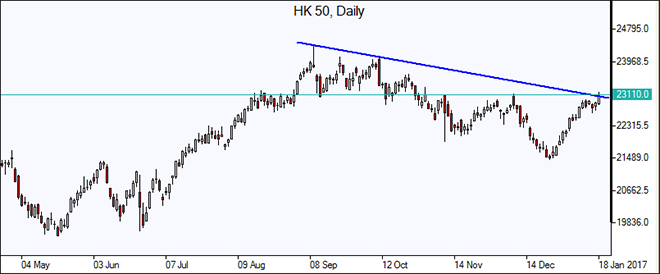 Oil prices rise on weaker dollar
Oil future prices are edging higher today as weaker dollar makes it less costly for users of other currencies, boosting the demand for the commodity. At the same time concerns US crude output may rise as prices go up limit the gains in oil. US government report said on Tuesday US oil production is set to rise towards 9 million barrels per day, forecasting a monthly rise of 41000 barrels a day in February oil production to 4.748 million barrels a day from seven major US shale plays. The March contract for Brent crude oil fell 0.7% to $55.47 a barrel on Tuesday.
Wednesday, 18 Jan, 2017 / 10:27
Source : http://www.ifcmarkets.com/en/market-overview/dollar-weakens-on-trumps-criticism-of-chinas-weak-yaun-policy?utm_source=financemagnates

PROCTER & GAMBLE SHARES SPIKE ON EARNINGS BEAT
Following the easing of covid-19 restrictions in the several parts of the [...]

Can US ISM Manufacturing PMI Bring Back Market Optimism?
Usually, after companies report their corporate earnings, traders want to see [...]

Dollar stabilizes, stocks recover ahead of busy week
Dollar trades quietly as traders brace for nonfarm payrolls [...]