AUD/USD: general analysis
Current trend
The Australian dollar has reached the two-week highs at the end of last week and stopped near support level of 0.9215, which is not surprising, considering the recent statement of the Australian authorities. Two weeks ago it was announced about the raise of the pension age, reduction of the welfare benefits, increase of taxes, and dismissal of some of civil servants. These measures was the reaction of the government to the government budget deficit, which amounted to 3.1% of GDP
Important news from Australia is not scheduled for release this week. However, attention should be paid to the data on sales of new houses in Australia in April, which will be known on Wednesday.
Levels of support and resistance
Indicator "Williams' Percent Range" with the period 30 is in the oversold zone with the figure of -86. Moving average line with the period 70, which can act as an additional support level for the price, is located at the level of 0.9215.
It the near future the Australian currency may experience upward correction to the level of 0.9280. From this level the price may reverse and decline to the levels of 0.9215 and 0.9110.
The nearest resistance level is 0.9280.
The nearest support level is 0.9215.
Trading tips
With consideration of possible correction to the level of 0.9280, it is recommended to open short positions from the level of 0.9240 with stop-loss at the level of 0.9280 and the target of 0.9110.
Aleksey Dzhaman
Analyst of LiteForex Investments Limited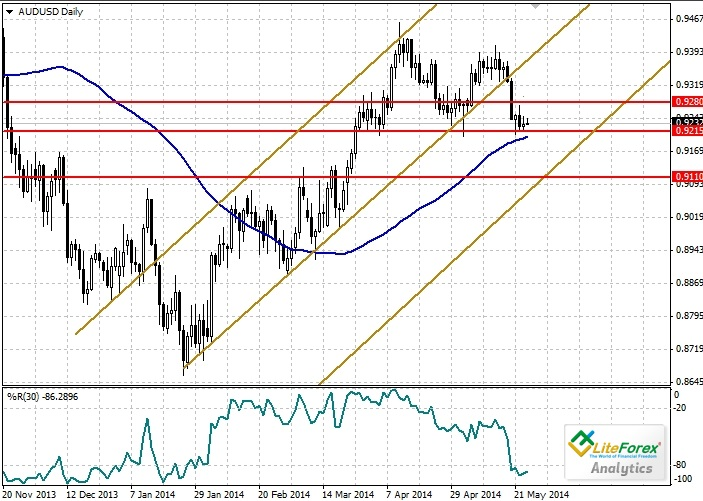 Monday, 26 May, 2014 / 11:20
Source : http://www.liteforex.com/

Market sentiment changed towards greater risk appetite
While the yields rose, the USD weakened against a basket of currencies Read [...]

What's The Real Issue With The Debt Ceiling?
Politicians just love a crisis that they can leverage to push their agenda and [...]

Bond markets come alive as tighter policy looms, stock rally eases
Sovereign bond yields jump on optimism and rising prospect of [...]