US dollar bullish bets fell to $17.08 billion from $18.53 billion against the major currencies during the previous week, according to the report of the Commodity Futures Trading Commission (CFTC) covering data up to February 1. The Federal Reserve held off hiking rates stating the economy was still on a moderate growth path as consumer and business sentiment improved, but investment activity remains "soft." Data during the week confirmed economy's recovery continues.
The non-farm payrolls in the United States increased by 227 thousand in January, higher than upwardly revised 157 thousand in December and above market expectation of 180 thousand. On the negative side average hourly earnings growth declined to 2.5% on year in January from 2.8% the previous month. The unemployment rose one tenth to 4.8% as the participation rate increased to 62.9% from 62.7%. Employment increased in retail trade, construction, and financial activities. The manufacturing sector expanded in January at the fastest pace in more than two years: the ISM Manufacturing PMI rose to 56 from 54.5. But construction spending fell 0.2% in December. The ISM Non-Manufacturing PMI inched lower to 56.5 in January from downwardly revised 56.6. Durable goods orders declined 0.5% in December compared with 0.4% the previous month, and capital goods orders, nondefense excluding aircraft, rose 0.7% after a 0.8% increase in November. Investors cut the dollar bullish bets for the seventh time in two months. As is evident from the Sentiment table, sentiment for all major currencies except for the British Pound. And the Canadian dollar together with the Australian dollar are still the two major currencies held net long against the US dollar.
The euro sentiment improved marginally as the net short euro position narrowed by $0.1bn to $6.0bn. Investors increased both the gross longs and shorts by 1019 and 257 contracts respectively. The British Pound sentiment deteriorated despite the Bank of England decision to leave the policy unchanged, keeping the short term interest rate at 0.25%. The net short position in British Pound widened $0.2bn to 5.0bn as investors reduced the gross longs and covered shorts by 4096 and 1330 contracts respectively. The Japanese yen sentiment improved as the net short position narrowed $0.3bn to $6.1bn. Investors cut both the gross longs and shorts by 6342 and 9613 contracts respectively.
The Canadian dollar improved with the net longs rising by $382 million to $649 million. Investors built the gross longs and covered shorts. The bullish sentiment continued to improve for the Australian dollar with net longs increasing by $0.3bn to $1.27bn. Investors increased both the gross longs and shorts. The sentiment toward the Swiss franc improved with the net shorts narrowing by $0.3bn to $1.8bn. Investors built the gross longs and covered shorts.
CFTC Sentiment vs Exchange Rate
| | | | | |
| --- | --- | --- | --- | --- |
| February 07 2017 | Bias | Ex RateTrend | Position $ mln | Weekly Change |
| CAD | bullish | positive | 649 | 382 |
| AUD | bullish | positive | 1276 | 363 |
| EUR | bearish | negative | -6000 | 114 |
| GBP | bearish | negative | -5044 | -222 |
| CHF | bearish | negative | -1833 | 333 |
| JPY | bearish | negative | -6128 | 344 |
| | | Total | -17080 | |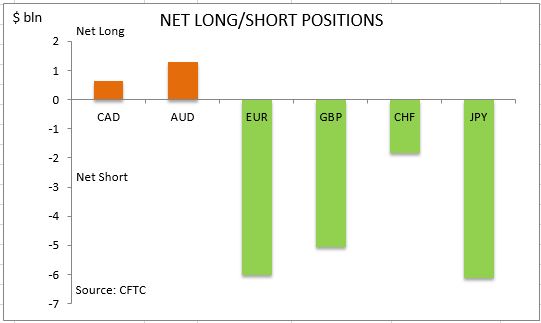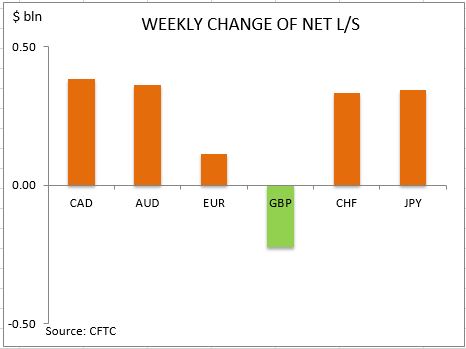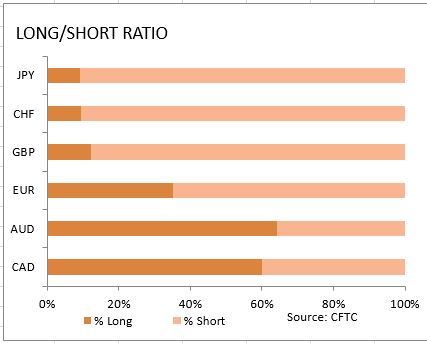 IFC Markets Review