Healthcare stocks lead US markets higher
US stocks ended higher on Tuesday on better than expected economic reports while a drop in oil prices weighed on energy stocks. The dollar continued its slide. The live dollar index data show the ICE US Dollar index, a measure of the dollar's strength against a basket of six rival currencies, closed 0.17% lower at 100.977. Dow Jones industrial average edged up 0.1% to 19121.60 led by gains in UnitedHealth Group and Boeing shares. The S&P 500 gained 0.1% settling at 2204.66, with healthcare and real estate stocks posting the biggest gains. The Nasdaq Composite index rose 0.2% settling at 5379.92, after hitting an intraday record of 5403.86.

Rebound in Italian bank shares leads European stocks higher
European stocks closed higher on Tuesday helped by strong recovery in Italian bank shares. Both the euro and the British Pound strengthened against the dollar. The Stoxx Europe 600 ended 0.3% higher with losses in mining and energy stocks offsetting gains in banking stocks. Germany's DAX 30 ended 0.36% higher at 10620.49. France's CAC 40 outperformed rising 0.9% and UK's FTSE 100 index lost 0.4% closing at 6772.00.

Asian markets mixed as investors cautious ahead of OPEC meeting
Asian stocks are mixed today with caution ahead of OPEC meeting outcome offsetting optimism about US economic outlook spurred by solid growth and consumer confidence data overnight. Nikkei ended flat today at 18308.48 with yen edging higher against the dollar. Chinese stocks are falling on concerns about falling liquidity as China's central bank in recent days bought yuans to shore up the sliding currency. The Shanghai Composite Index is 1.1% lower while Hong Kong's Hang Seng index is up 0.3%. Australia's All Ordinaries Index fell 0.33% with Australian dollar edging lower against the dollar.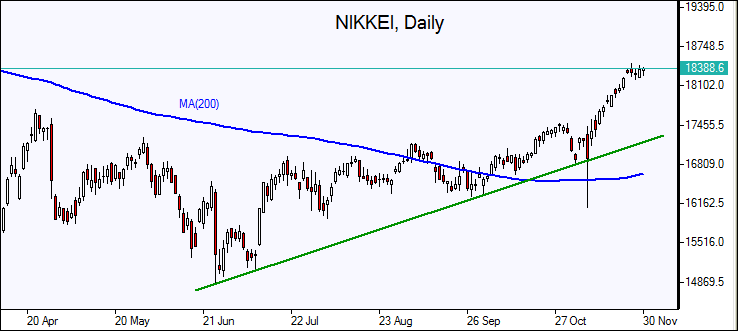 Oil prices rise ahead of OPEC meeting
Oil futures prices are edging higher today ahead of an OPEC meeting later in the day. January Brent crude dropped 3.7% to $46.46 a barrel on London's ICE Futures exchange on Tuesday. It is far from certain producers can agree on output cut as OPEC, which accounts for a third of global oil production, is concerned its output cut will simply hand over market share to non-OPEC competition. The concerns are based on estimates of rising production in coming year. US crude output particularly is expected to rise as US Energy Department forecasts domestic crude production is likely to reach 8.7 million barrels a day in 2017, 100000 barrels a day higher than the previous estimate. OPEC producers Iran and Iraq are resisting pressure from Saudi Arabia to cut output, signaling they are willing to hold output steady. The meeting is expected to begin at 10:00 CET today. OPEC's secretary-general is scheduled to hold a news conference at 12:00 CET. And at 16:30 CET today Crude Oil Inventories will be released by the Energy Information Administration.