Nasdaq hits a record high
US stocks ended marginally higher on Tuesday as gains, supported by positive earnings reports, were limited by concerns over growing trade deficit. The dollar strengthened further after Philadelphia Federal Reserve President Harker's comment Monday that a March interest rate hike is "on the table." The live dollar index data show the ICE US Dollar index, a measure of the dollar's strength against a basket of six rival currencies, closed 0.5% higher at 100.401. Dow Jones industrial average rose 0.2% to 20090.29 led by Apple, Boeing and IBM shares, up 0.95%, 1.54% and 1.48% respectively. The S&P 500 added less than 0.1% settling at 2293.08 with gains in advancing sectors led by consumer staples offsetting losses in decliners led energy stocks, down 1.4%. The Nasdaq index closed at record high of 5674.22, gaining 0.2%.

French bank stocks limit gains in European equities
European stocks advanced on Tuesday on positive corporate reports while uncertainty over French elections added to cautious mood. The euro extended losses against the dollar hurt by ECB president Mario Draghi's Monday comment it was too early to withdraw monetary stimulus as recent uptick in inflation was mostly due to higher oil prices and not improvement in euro-zone economy. The British Pound, on the other hand, strengthened against the dollar. The Stoxx Europe 600 rose 0.3%. Germany's DAX 30 gained 0.34% to 11549.44. France's CAC 40 lost 0.5% and UK's FTSE 100 index added 0.2% to 7186.22.

Asian markets recover
Asian stocks are up today with investors cautious in light of rising political uncertainty in Europe. Nikkei ended 0.5% higher at 19007.60 supported by positive earnings reports as the yen uptrend against the dollar stalled. As investors await for the start of two-day meeting of the US and Japanese leaders this Friday, data showed Japan's current account surplus hit 20.6 trillion yen ($183.63 billion) in 2016, its second-biggest surplus on record on cheaper oil, rising foreign tourists arrivals and foreign income from overseas investments. Chinese stocks are higher, shrugging off the news China's foreign exchange reserves unexpectedly fell below the closely watched $3 trillion level in January for the first time in nearly six years. The Shanghai Composite Index is up 0.4% and Hong Kong's Hang Seng Index is 0.6% higher. Australia's All Ordinaries Index is up 0.54% with the Australian dollar edging lower against the dollar. Today at 21:00 CET Reserve Bank of New Zealand interest rate decision will be released, no change in policy is expected.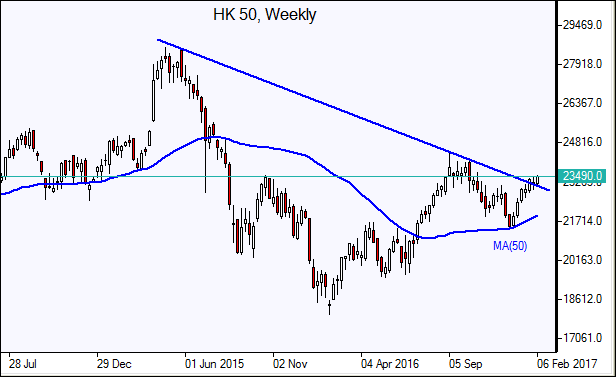 Oil prices inch higher
Oil future prices are edging higher today rebounding from extended losses the previous day. The American Petroleum Institute reported yesterday US crude stocks rose by 14.2 million barrels last week to 503.6 million barrels with gasoline stocks increasing by 2.9 million barrels instead of an expected 1.1-million barrel gain. April Brent crude closed 1.2% lower at $55.05 a barrel on London's ICE Futures exchange on Tuesday. Today at 16:30 CET the Energy Information Administration will release US Crude Oil Inventories.