By Giles Coghlan, Chief Currency Analyst at HYCM

There are some compelling reasons for NOK (Norwegian Krona) strength against SEK (Swedish Krona) as we head into year-end. Remember that one of the key trading principles is to trade a strong currency pair against a weak one. Yesterday, the Norges (Norway) and the Riksbank (Sweden) both met and decided on their current interest rate. Their outlook was very different as they showed a policy divergence.

Swedish Riksbank

They raised interest rates to 0% from -0.25% in a retreat from negative interest rates. The general view of the meeting was that the Riksbank saw this hike as a 'one and done' hike and expected interest rates to remain at 0% for the coming years

Norwegian Norges Bank

The Norges bank kept interest rates at 1.50% vs 1.50% expected and acknowledged a less expansionary rate path ahead. However, the have retained an upside bias with expectations of a 1.60% interest rate increase in 2020.

So these two central banks have diverging outlooks and NOKSEK looks likely to attract buyers.

Timing is everything

One aspect to be aware of is that, according to Nordea markets, Norges bank stops FX purchases for NOK which usually leaves NOK vulnerable over Christmas. Here is a chart showing the EURNOK from the day after Norges Bank stop NOK purchases in mid-December to year-end.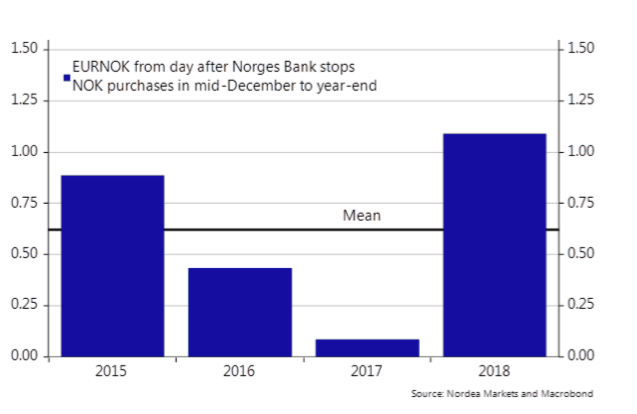 The timing for buyers, therefore, would be entering the market late December / early Jan to avoid any Christmas NOK weakness.