By Giles Coghlan, Chief Currency Analyst at HYCM

The UK is having a general election today as PM Johnson was unable to get a Brexit deal through UK Parliament. In an attempt to break the political deadlock a general election is being held to see if a majority can emerge. The total number of seats in the UK Parliament is 650. In order to gain an overall majority, 326 seats are needed. The Conservatives currently have 298 seats in Parliament and Labour have 243. At present, the Conservatives are ahead in the polls. However, because of the UK's first past the post voting system which has a 'winner takes all approach' this means that votes for an unsuccessful candidate don't count. So, the percentage of votes in the country does not equate to proportional representation of seats in Parliament. This means that the polls are not always a great indicator of what the actual seats will be in Parliament. It is possible for a party to have many votes, but comparatively few seats. Here are the latest polls from politico showing that the Conservative party has an 11% lead in the polls.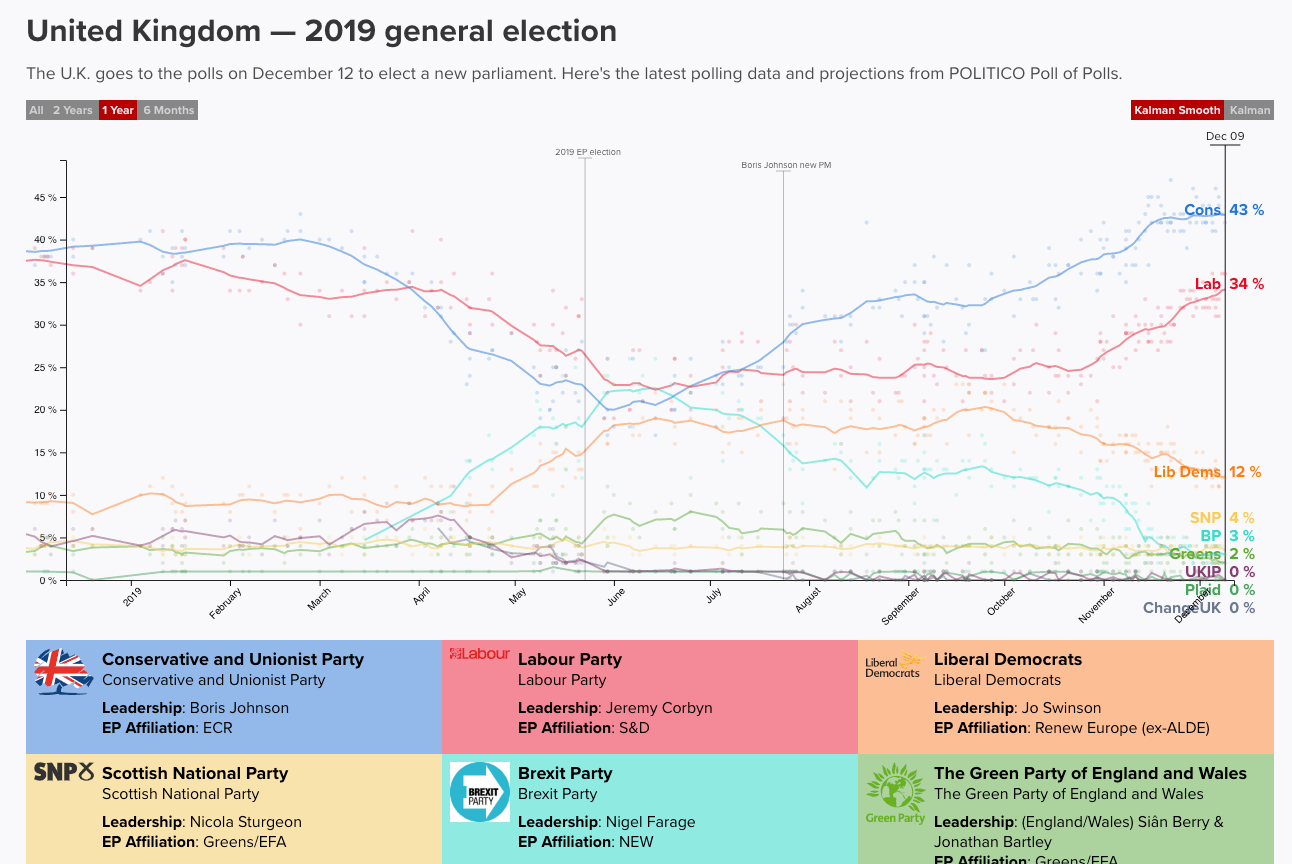 However, what is considered the most sophisticated model of polls, the MRP (multilevel regression with post-stratification) model, has given the Conservative party a 28 seat majority. However, the model's margin for error places the final Conservative seat total somewhere between 311 and 367 seats. With 326 seats needed for a clear majority, this means that a hung parliament is a possibility and will be a bearish risk for the GBP as the results come in. Here is what the market is expecting ahead of the result which can be followed here from 2200GMT tonight.

Big Conservative majority
GBP strength on the immediate result. However, there is a risk of a 'buy the rumour sell the fact' response

Small Conservative majority
Similar to above, but the concern would turn to whether Johnson has enough of a majority to pass his deal

Conservative minority and hung parliament
GBP weakness as more uncertainty would reign. The immediate focus would turn to whether a coalition Gov't could form

Big Labour majority
Unlikely outcome and would result in pressure for a second UK referendum. However, the initial reaction would be GBP negative with Labour's anti-big business and anti-capitalist agenda

For a more detailed view ING have provided an excellent cheat sheet for the election results.