15 months ago, at the beginning of 2018, Dukascopy Bank had set an ambitious goal to become the most dynamic and fast-growing retail banking institution in Switzerland. Today we are proud to report that the business model developed by Dukascopy Bank to achieve that goal is completely sustainable: 100 000 clients have entrusted to our institution their payment needs and assets! And the pace is gathering in speed: more than 50% of the amounts of retail accounts have been opened during last three months. In fact every three months the bank doubles its on-boarding productivity.
Our retail clients can reach the financial world by double-tapping on the screen of their smart-phones. A state-of-the-art bank-bot will guide the client through the wide range of unique services offered by Dukascopy Bank:
Banking accounts in 23 currencies with an instant opportunity to exchange one currency against another with the best possible forex exchange rates with and lowest commission rates (for example, Swiss residents are charged only 0.25% of the exchanged amount);
Instant and free of charge money transfers to any mobile phone number and between chat-mates of Dukascopy Connect messenger;
A wide range of investment vehicles built directly into the bank-bot including commodities, indices, gold and bitcoin;
Access to the first Swiss banking cryptocurrency created by Dukascopy Bank called the Dukascoin which can be obtained by every new retail MCA account holder for free and offers overwhelming opportunities for its holders: participation in either conservative reward programs with average annual profitability at more than 50% or speculations on the internal Dukascoin Marketplace.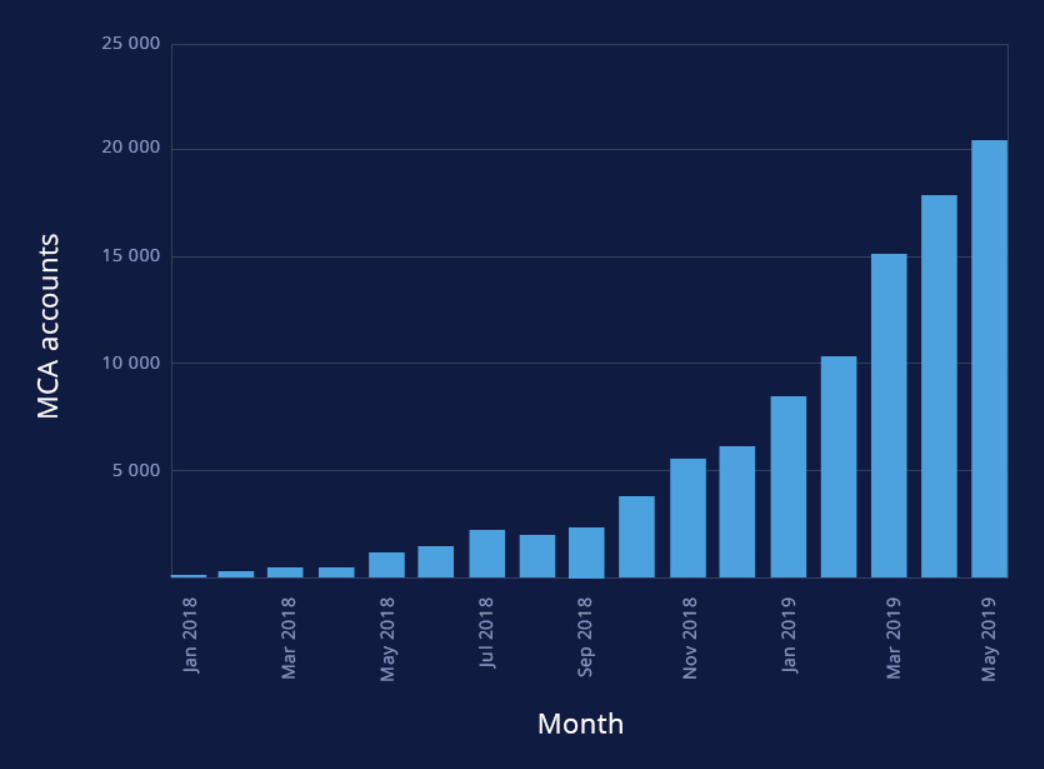 For those who prefer more traditional ways of managing their money Dukascopy Bank offers personal prepaid Dukascopy Visa card in EUR, USD, CHF and GBP allowing either to pay bills and services online and in stores (millions of locations supported) or to get cash in ATM's. Transfers between the retail account and carda (deposits and withdrawals) are also free of charge.
Key components of the success reached are the following:
Strict KYC/AML procedures based on Swiss banking regulation;
Innovative on-line client onboarding procedure with remote Video Identification allowing clients from all over the World to open a Swiss retail banking account without having to be physically present at the bank's office;
Modern Dukascopy Connect 911 messenger available for all mobile devices with built-in internet banking capabilities
Active usage of Artificial intelligence with chat-bots which allows 24/7 support and onboarding of clients;
Implementation of the crypto-friendly bank concept.
Based on above mentioned factors Dukascopy Bank reduced the cost of onboarding of per client from 100 down to less than 3 EUR!
The convergence between Swiss banking traditions and modern technologies in Dukascopy Bank's retail products brought the bank to its current impressive result and has created a well-grounded basis for the development of even more fascinating products which will be announced very soon. While celebrating this new milestone we can endorse our bank's ambitious goal as stated in the Dukascoin project Whitepaper: "With the trend continuing to be so dynamic, the Bank is eager to become the biggest digital bank regulated in Switzerland."