By Dmitriy Gurkovskiy, Chief Analyst at RoboForex

EURUSD continues rising. On Monday June 24th, the instrument is mostly trading close to 1.1376. Market players aren't as active as usual, but it may change in a moment.

The USD still remains under significant pressure after the US Federal Reserve gave very clear signals last week that it was ready to cut the rate in case the country's economy slowed down. On one hand, it means that the USA are ready to continue its trade wars against China and others and for this purpose they require quite soft monetary policy in the country to avoid any slowdowns in its economy and inflation. On the other hand, the USA don't need their currency to be strong right now, so they may kill two birds with one stone.

Other members of the FOMC are also saying that it's the high time to cut the rate, by 50 basis points. Of course, it sounds too negative for the USD.

This week, the macroeconomic calendar is quite empty. As always, all interesting reports at the end of the month are centered on Friday.

As we can see in the H4 chart, after completing the five-wave rising structure, EURUSD is consolidating at its top. Possibly, the pair may form a reversal patterns close to the highs. After breaking 1.1355, the price may start a new descending wave (as a correction) to reach 1.1222. From the technical point of view, this scenario is confirmed by Stochastic Oscillator, as its signal line is trading inside the "overbought area". To confirm the above-mentioned wave, the indicator must leave the area.



In the H1 chart, EURUSD is consolidating around 1.1375. Possible, the pair may extend the ascending structure towards 1.1394. After reaching this level, the price may start a new decline towards 1.1355 and, as a result, break the ascending channel and start a new wave to the downside with the first target at 1.1305. From the technical point of view, this scenario is confirmed by MACD Oscillator, as its signal line is ready to move downwards and reach 0. After breaking is, the instrument may quicken its decline towards 1.1222.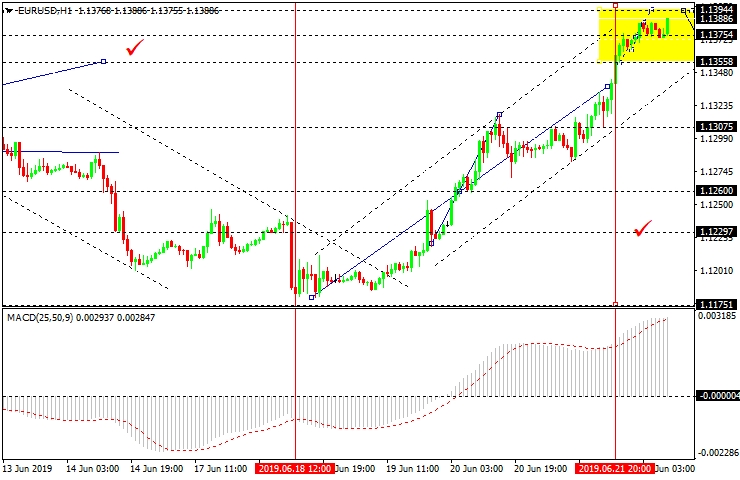 Disclaimer
Any predictions contained herein are based on the authors' particular opinion. This analysis shall not be treated as trading advice. RoboForex shall not be held liable for the results of the trades arising from relying upon trading recommendations and reviews contained herein.