By Dmitriy Gurkovskiy, Chief Analyst at RoboForex

The British Pound is still completely focused on the Brexit talks. This is the reason why the Pound plummeted significantly last week and the reason it managed to recover later.

The Prime Minister Theresa May introduced the revised draft of the Brexit agreement with the European Union to the British Parliament. For example, policymakers were offered to vote on the Article 50, which implied to postpone the exiting procedure, but they were against it. Other key changes in the Agreement were also declined.

It's not easy to be May right now. After two unsuccessful votes on the Brexit, she decided to revise the agreement, on her own, against the European Commission's stance, so that the British policymakers could approve it. Failure. It didn't work out for the third time.

May is ready to try and approve the Brexit agreement again and again. After plummeting for about a week, the Pound managed to recover a bit thanks to May's comments on her intentions to continue working on the document and return to the Parliament with a new revised version in case she had a breakthrough. The deadline for the Brexit revisions is February 26th, so the Pound will surely have more new reasons for fluctuations.

In the H4 chart, GBPUSD is trading downwards and this decline may be considered as a correction of the previous uptrend. After the pair reached 50.0% fibo, there was a convergence on MACD, which made the price reverse and start a new rising impulse. Right now, this impulse is testing the resistance line of the descending channel at 1.2930. If the instrument breaks it, the pair may continue growing towards 1.2994, 1.3047, and 1.3110 (50.0%, 61.8%, and 76.0% fibo respectively). Another possible scenario implies that the price may rebound from the resistance line and start a new impulse to the downside to break the low at 1.2773 and reach 1.2710 (61.8% fibo).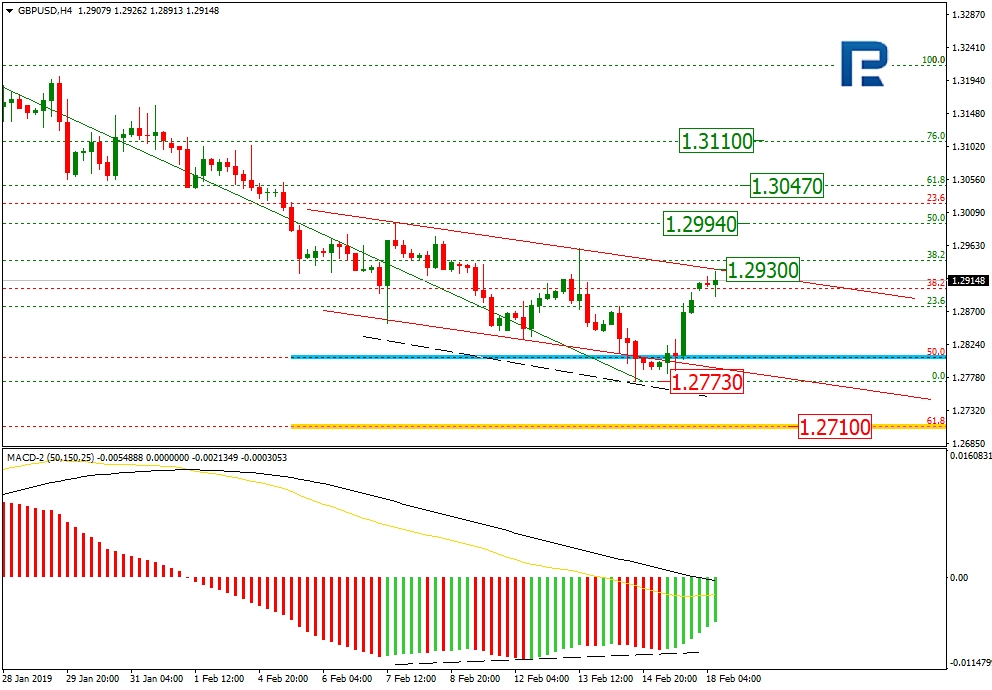 Disclaimer Any predictions contained herein are based on the authors' particular opinion. This analysis shall not be treated as trading advice. RoboForex shall not be held liable for the results of the trades arising from relying upon trading recommendations and reviews contained herein.