By Dmitriy Gurkovskiy, Chief Analyst at RoboForex

On Monday, the British Pound is slightly falling against the USD. However, in general the currency is looking quite stable.

On June 7th, the British Prime Minister Theresa May resigned from the position of the leader of the Conservative and Unionist Party, but she remains temporarily in charge. The procedure of finding a new head of the Party is starting today and the next leader will be announced before July 28th.

Since there are no emotional responses in the Pound, the above-mentioned news is not actually really new: they had been driving May from the position for a long time despite her attempts to conclude the Brexit agreement with the European Union the way it meant to be in the first place.

The list of successor candidates includes at least 11 people. The most perspective of them is Boris Johnson, a former Secretary of State for Foreign and Commonwealth Affairs, he is a favorite to take May's chair. Johnson is a vocal opponent of the Brexit and everything May was doing. If Johnson gets the Prime Minister position, the United Kingdom and the Pound may face significant crisis due a complete reversal in priorities. Johnson's ascension to power may result in a long-term stress for the national currency.

In the H4 chart, after breaking the rising channel, GBPUSD is forming the first wave to the downside with the target at 1.2630. After that, the instrument may be corrected towards 1.2710, where the channel was broken, and then resume trading inside the downtrend to reach 1.2490. From the technical point of view, this scenario is confirmed by Stochastic Oscillator, as its signal line is moving above the "oversold area". After breaking 50, the instrument may fall faster to reach the target.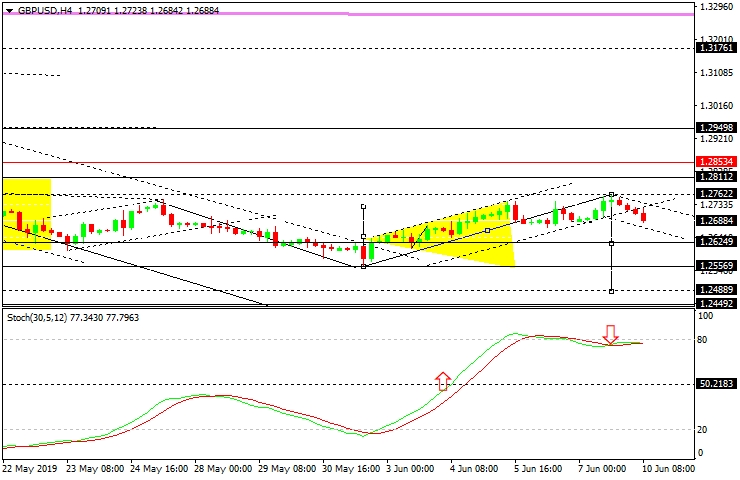 As we can see in the H1 chart, GBPUSD is trading downwards with the first target at 1.2681. Later, the market may start another correction to reach 1.2720 and then resume trading inside the downtrend towards 1.2630. From the technical point of view, this scenario is confirmed by MACD Oscillator, as its signal line is steadily moving downwards. After breaking 0, the downtrend may quicken. Such technical signal of the Oscillator is getting stronger with appearance of a divergence at the top of the bar chart.



Disclaimer
Any predictions contained herein are based on the authors' particular opinion. This analysis shall not be treated as trading advice. RoboForex shall not be held liable for the results of the trades arising from relying upon trading recommendations and reviews contained herein.