By Dmitriy Gurkovskiy, Chief Analyst at RoboForex

The Oil market is extremely volatile and fluctuates significantly early in another September week. Brent is currently trading at 66.30 USD and may continue soaring.

It's all about attacks of drones on Saudi Arabia facilities, which took place last weekend. There were two attacks on the Saudi Aramco oil facilities in Khurais and Abqaiq, one of which is the largest refinery in the world. This refining capacity covers about half of all oil production in Saudi Arabia, which is about 6 billion barrels per day. If damages are serious, and such is indeed the case, as they say, refineries won't be restored very quickly. This, in its turn, means that Saudi Arabia's supplies to the global oil market will significantly reduce and this quantity deficiency is what pushes the oil prices upwards.

The USA has already announced that the country is ready to fill the void with its own supplies, but the aspects of this are quite subtle.

Houthi rebels have already taken credit for the incident, but there are other versions as well, for example, Iran.

In the H4 chart, Brent is moving inside the third rising wave with the target at 69.30; right now, it is correcting towards 64.50. Later, the market may grow to reach 69.30 and then return to 64.50. After that, the instrument may resume trading upwards with the target at 70.60. From the technical point of view, this scenario is confirmed by MACD Oscillator: its signal is moving directly upwards.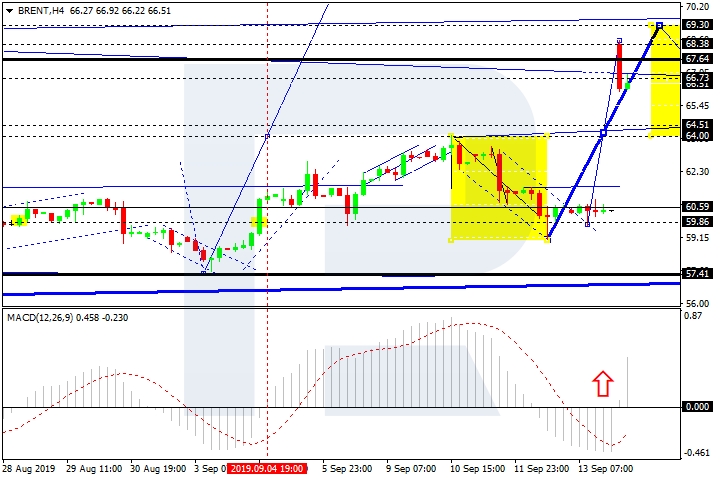 As we can see in the H1 chart, Brent has completed another ascending structure and reached the target at 68.30; right now, it is correcting downwards to reach 64.50. After that, the instrument may start another growth towards 69.30. From the technical point of view, this scenario is confirmed by Stochastic Oscillator: its signal line has broken 50 to the downside, thus confirming a further correction.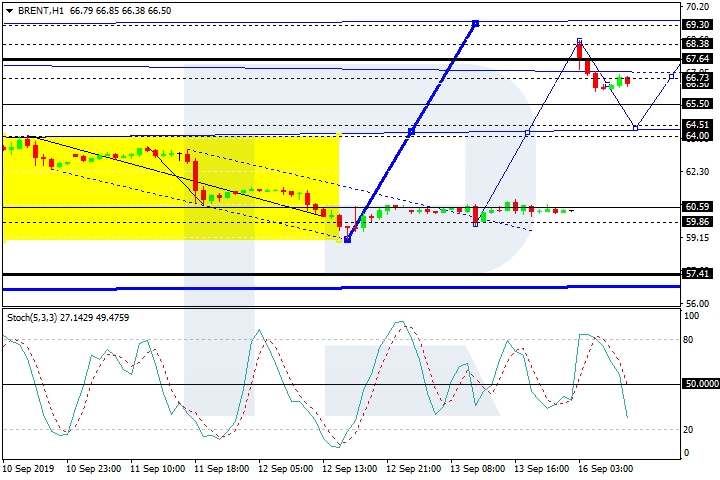 Disclaimer
Any predictions contained herein are based on the authors' particular opinion. This analysis shall not be treated as trading advice. RoboForex shall not be held liable for the results of the trades arising from relying upon trading recommendations and reviews contained herein.