By Dmitriy Gurkovskiy, Chief Analyst at RoboForex

Early in the second week of April, the oil market is on the rise. Brent has broken the psychologically-crucial level of $70 and is trading a little bit above it on Monday, April 8th. Investors continue pushing oil prices upwards with news from Libya, where the conflict escalated, being the key trigger.

At the same time, market players didn't pay attention to readings from Baker Hughes, which were quite bearish this time: the number of rigs in the USA added 19 units over the week, including 15 oil ones.

It's clear why the Libya factor is decisive for the oil market right now. First of all, no one can really say if the current conflict may escalate and turn into a real Middle Eastern "fire". If this scenario comes true, oil prices might continue growing for a long time, because it implies that investors consider possible pipeline damages and disruptions of oil supplies as a very high risk. Secondly, such drivers provide traders with an opportunity to make money and all of them are trying to "catch this train".

However, of course there is a chance that in a couple of days this Libyan news won't get any continuation and be interesting for the oil market, thus allowing Brent to start a correction.

The oil market situation should be analyzed using the daily chart. The current uptrend should be considered as a correction of the previous downtrend. This ascending movement has already broken 50.0% fibo and is heading towards 61.8% fibo at 72.92. Technically, the rising channel is looking steadily, but there is a divergence on MACD, which indicates a possible reverse soon. The support level is at 67.40. If the price breaks this level, the instrument may start a new decline.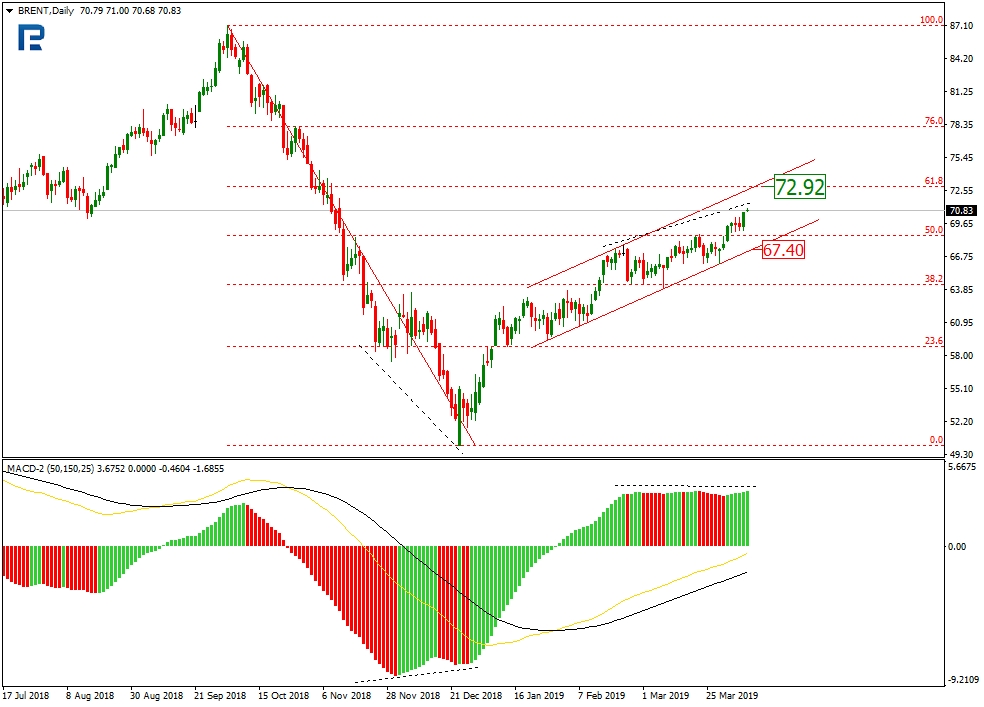 In the H4 chart, Brent is forming an ascending impulse towards the key resistance line. At the same time, there is a black cross inside the "overbought zone" on Stochastic, which may indicate a short-term pullback soon. The first downside correctional target will be the support line at 69.80, while the key one is at 68.60.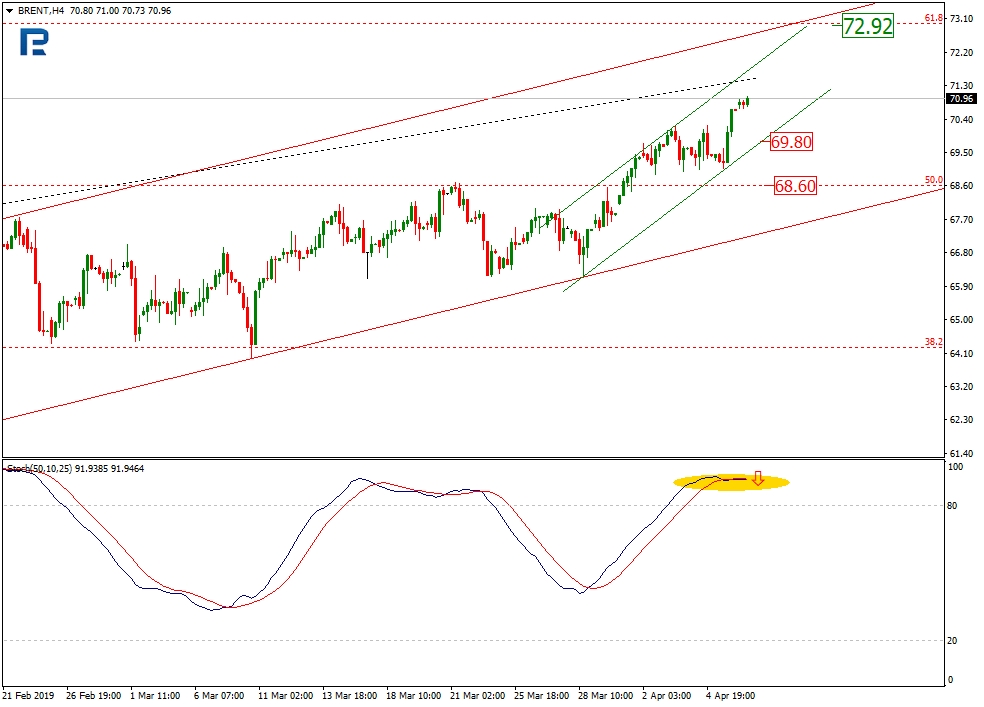 Disclaimer
Any predictions contained herein are based on the authors' particular opinion. This analysis shall not be treated as trading advice. RoboForex shall not be held liable for the results of the trades arising from relying upon trading recommendations and reviews contained herein.