By Dmitriy Gurkovskiy, Chief Analyst at RoboForex

The European currency got under more significant pressure last week and reminded market players that European problems may be much more complicated than meets the eye.
Right now, the major currency pair is trading close to three weeks' lows but may test the bottom at 1.1025 reached on August 1st.

The Euro might have plunged ever more, but was surprisingly "saved" by Der Spiegel, a German weekly news magazine, which wrote that the German government was ready to settle for the budget deficit if the country's economy started falling into a recession. This was pretty unexpected and unusual because Angela Merkel and the German Federal Ministry of Finance have been famous for their tough stance against any economic incentives related to budget and tax policies. Market players were really surprised, thus helping the European currency to recover a little bit.

Before that, Germany reported on the GDP, which lost 0.1% q/q in the second quarter of 2019. This was quite negative for the GDP of the Euro Area, which added only 0.2% q/q over the same period of time after being much better in the quarter before.

On H4 EURUSD has formed a figure of the downtrend continuation. The centre of the structure is explicit around 1.1130. The minimum of the figure at 1.1090 is broken away. There is a potential for the continuation of the third declining wave to 1.1010. The goal is local. After that, a correction to 1.1070 may happen, followed by a decline to 1.0980.

Technically, the scenario is confirmed by the MACD oscillator. Its signal line is trading below 0, strictly for a decline, remaining in the histogram zone, all this suggesting a
further downtrend.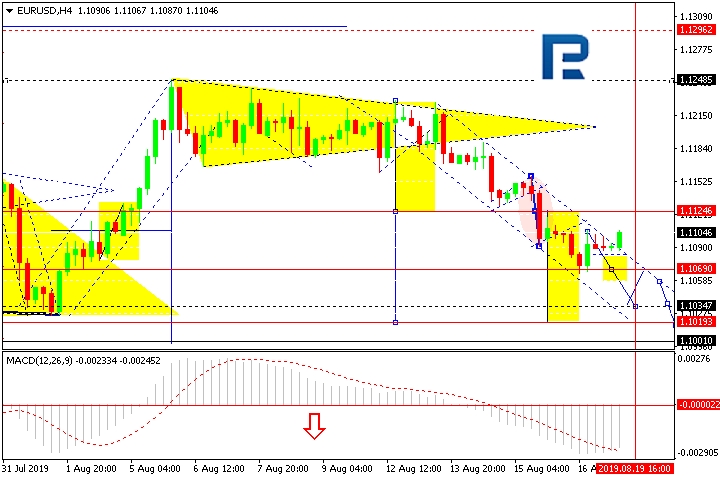 On H1, EURUSD is trading in the second half of the third wave of decline. At the moment, the market has completed an impulse downwards and its correction. It may then decline to 1.1070. Upon breaking this level top-down, there will appear a potential for reaching 1.1033. After that a correction to 1.1070, followed by a decline to 1.0980, is not excluded. The goal is main.

The scenario is confirmed by the Stochastic. Its signal line is trading strictly for a decline. Upon a breakaway of 50 the trend may become stronger.




Disclaimer
Any predictions contained herein are based on the authors' particular opinion. This analysis shall not be treated as trading advice. RoboForex shall not be held liable for the results of the trades arising from relying upon trading recommendations and reviews contained herein.