By Dmitriy Gurkovskiy, Chief Analyst at RoboForex

The Brent crude prices are not moving very much early this week, with the black gold consolidating near $67.25. Previously, it tested the local high at $68.14. The fundamentals are meanwhile signaling a bullish scenario.

Baker Hughes reported the US oil rig count Friday; the number declined by one, staying at 1,026; the oil derrick count also decreased by 1, while the gas derrick count remained unchanged. The oil rig count is meanwhile at its low since April 2018, with the number reduced by 11 a week ago. This may mean either that the US overestimated the crude oil demand or that the rig performance is not effective.

The EIA, meanwhile, reported an oil production decline last week; namely, the production was reduced by 100K barrels per day, reaching 12M barrels. This is not far from the historical high, while the target is at 12.30M. The demand for energies is not rising so far, and what the US is going to do with such large production amounts yet remains to be seen.

The crude oil production in Libya is rising, but the markets are not much interested in this news, as Libya's share in the total production volume is very much low.

The latest rising move in crude not only supported the overall ascending trend, but also made the MACD diverge, which may signal a pullback or even a reversal is near. The immediate target is at the current channel support, $65.20, followed by either another rising move or the support test. In case of a bounce, the crude will be sent to the resistance at $70.60, while the support breakout will push it down to $59.75. The latter scenario may get confirmed in case the MACD forms a black cross.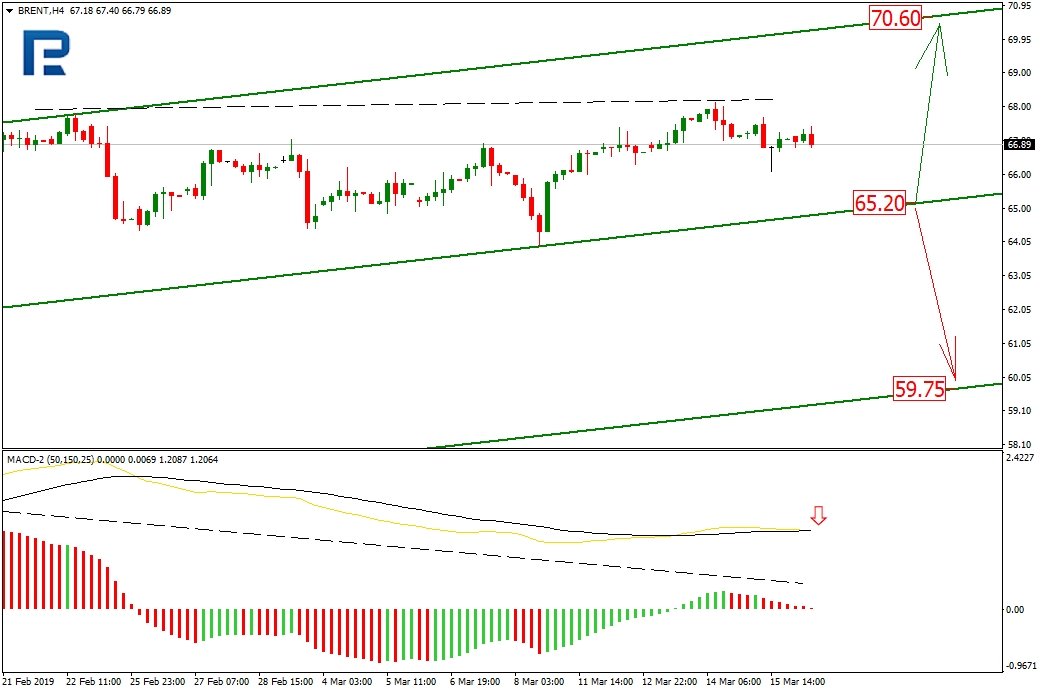 On H1, Brent is going down after the Stochastic divergence. The immediate targets lie at 50%, 61.80%, and 76% Fibo, or $66.03, $65.54, and $64.94, respectively.



Disclaimer
Any predictions contained herein are based on the authors' particular opinion. This analysis shall not be treated as trading advice. RoboForex shall not be held liable for the results of the trades arising from relying upon trading recommendations and reviews contained herein.