By Dmitriy Gurkovskiy, Chief Analyst at RoboForex

The Australian Dollar is trading a little bit upwards against the USD early in the week. The Aussie is slowly recovering after quite significant losses before.

Last week, the Chinese customs service in Dàlián imposed restrictions on the import of Australian coil and announced its intentions to significantly limit the total import of coil that comes from Australia until the end of 2019. The scope of limitations is about 12M tons. Apart from this, it became known about possible delays of the customs processing of coil from Australia, which now might take up to 40 days.

From the fundamental pint of view, this news is awful for Australia and the Aussie, because it adds even more complications to the current political tensions between China and Australia. China has always been the key trade and economic partner for the Green continent and any deteriorations in their relations are a real time bomb.

The point is that earlier Australia rejected an offer from China, which implied an acquisition of a large Australian company by its partners from China. Another thing is that even before that, in August 2018, Australia stopped buying equipment for 5G mobile networks produced by Huawei and ZTE, because it believed that it was unsafe from the point of view of global security in the country. China responded to this in its usual way, which was really good: it started an investigation into Australian barley suspecting dumping schemes and then turned to coil.

In fact, that's just the tip of the iceberg. The imported Australian coil covers only some part of the Chinese needs for it. No matter how important China is for Australia, the import of coil to China was only 22% of the total number last year. So, one can say that there is some kind of conflict between these two countries, but not very serious. So far.

In the H4 chart, AUDUSD is forming a rising impulse, but the pair is trading inside the descending channel so far. The closest upside target is at 0.7212, which is a bit below the resistance level of the mid-term channel. After reaching this area, the instrument will have to decide on what to do next: either break it and continue growing towards the projected resistance lien at 0.7355, or test the area, rebound from it, and resume falling towards the support level at 0.7077 or even 0.6977.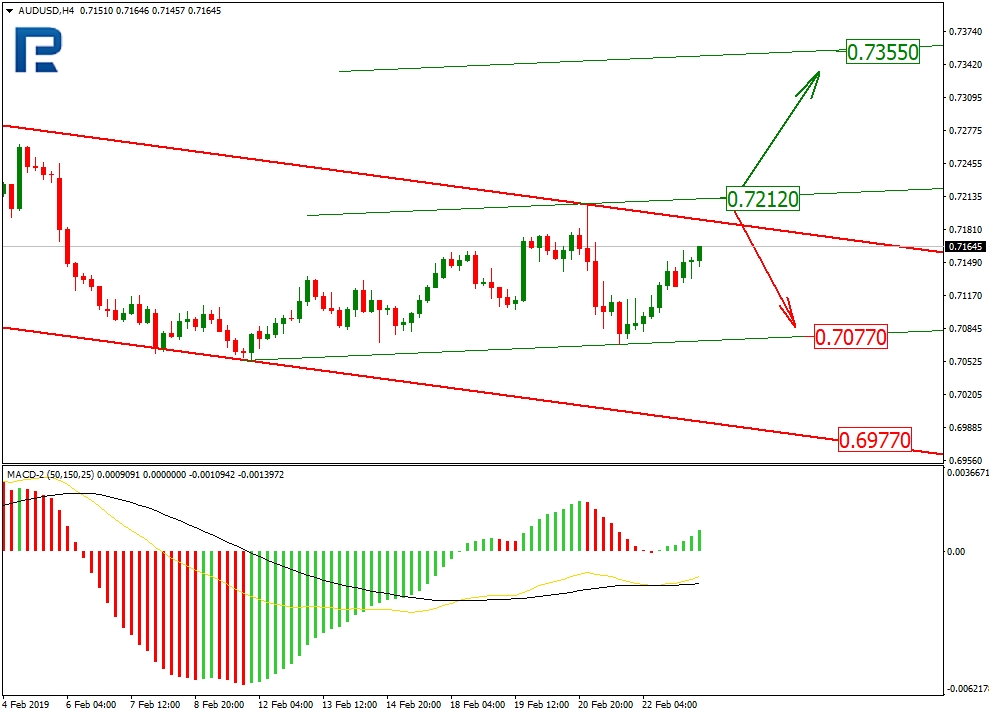 Disclaimer
Any predictions contained herein are based on the authors' particular opinion. This analysis shall not be treated as trading advice. RoboForex shall not be held liable for the results of the trades arising from relying upon trading recommendations and reviews contained herein.